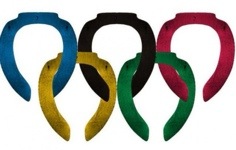 Anyone watching the Olympic Games Opening Ceremonies? It's a spectacle. Lady Gaga must've designed the country delegation guide lady uniforms.
I'm not sure why everyone was hating on the US team's uniforms. I think they're charming.
As always happens when I see the Opening Ceremonies, there's a country or two I've never heard of, which makes me feel like Sarah Palin.
I haven't traveled as much as I'd like, though I've gone farther than most girls from my particular manatee-infested Confederate backwater.
In addition to extensive travel within the US, here's where I've been: Canada, Mexico, the Bahamas, Germany, Austria, the Czech Republic and Hungary.
Where in the world have you been? Where do you want to go?