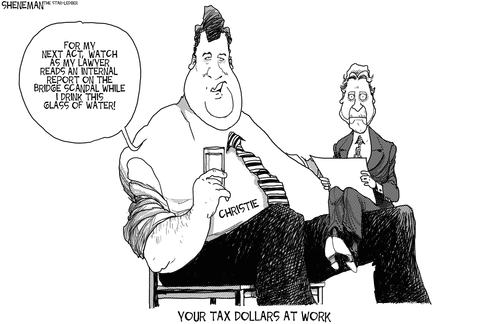 (Drew Sheneman at GoComics.com)
Christie's latest attempt to wriggle out from under his own vast fvckup has been a real gift to political cartoonists, among others. Such as Gail Collins:
Let's take a minute to search for life lessons in the latest Chris Christie bridge-traffic-jam episode. I believe there are two. First, when the political ship is going down, nobody will bother to rescue the unattached woman and the dork from senior year….

"I had nothing to do with this … and this report has supported exactly what I said," Christie announced rather triumphantly. Negative minds might substitute "announced pompously with an extreme degree of self-righteousness," but we are taking the high road….
New Jersey resident Scott Raab, at Esquire's Poltical Blog, puts it in more… Jersey terms:
Thank goodness we finally know the truth: The two conspirators behind the creation and cover-up of the Great Fort Lee Clusterfk — the twin villains who duped Governor Chris Christie and everyone else working for him — are Bridget Kelly, a scorned woman, and David Wildstein, a scheming, skulking Jew. That's all, folks. Case closed…

No hog could be adorned with thicker lipstick. There are three other ongoing, official Fort-Lee-truth-investigations — most notably that led by Paul Fishman, the U.S. Attorney for New Jersey — so it was vital for Christie to get his story out first, before Fishman's truth fails to dovetail with Christie's story.

Plus, Christie needed a lift: He's heading to Las Vegas to tea-bag Sheldon Adelson, and thanks to Fort Lee and those vicious media bastards, Christie's stock has fallen so far so fast that he's now billed as an opening act for Jebby Bush. For Chris Christie to resuscitate dead hope that he can become president of these United States, he must be washed white as ricotta. Hence the timing — not just of the Christie Report's release, but of his accompanying national media blitz…
An opening act for Jebby Bush. That's gonna leave a mark…
What is this, therapy? RT @GovChristie: I feel taken advantage of & also, but more importantly, I feel like I let people down by not knowing

— Josh Barro (@jbarro) March 28, 2014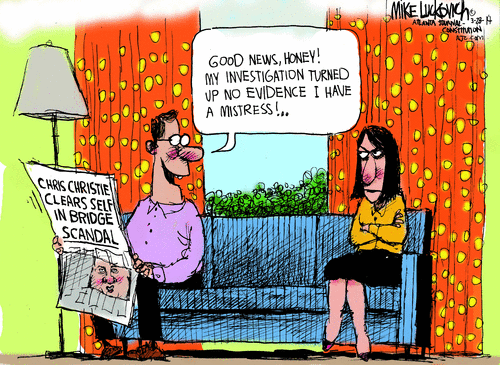 (Mike Luckovich via GoComics.com)