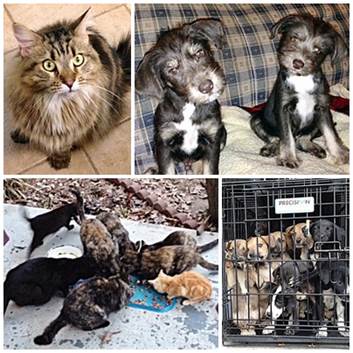 An email update from MARC:
John, Thank you and all Balloon Juice followers, for the calendar sales resulting in MARC (Marion Animal Resource Connection) in Jasper, TN receiving $1,935.96! It is being put to very good use. I don't know what we would do without your support. You have helped and continue to help so very many innocent cats and dogs here in Marion County, TN.

In the last 4 weeks we have taken in 22 stray puppies and 3 pregnant dogs who subsequently gave birth to 19 puppies. In just one week we spayed and returned to their low income families 12 female dogs who would not have been spayed without MARC's help. This prevented more homeless puppies. We have helped rescue and rehome 5 pregnant cats and two litters of kittens. MARC receives on average ten calls every day of the week asking for help.

The pictures I have included show a sample of the cats and dogs we have helped recently. The two cute puppies on the couch were from a litter of six who had apparently been thrown over a cliff on one of our mountains. Hikers heard them crying, climbed down and saved them all. MARC was contacted and the puppies were fostered until they were old enough to be adopted. MARC provided their vet care and got them spayed and neutered. These two were adopted by one of the TV anchormen from the station who covered the story.

We continue to cultivate networks with other rescues and shelters. So far this year we have sent 60 dogs/puppies to Boston with Great Dog Rescue New England. They find wonderful homes for our southern dogs. We also have been working with two of the shelters in Chattanooga. They have started helping us with hoarding cases and taking cats and dogs as they are able. These relationships have been a wonderful outlet for MARC when we have no place to put an animal to prevent them being killed or getting them some help medically.

Again, Thank you and your followers for all the wonderful support you give MARC. You make it all possible!!!

Sue
You guys rock!