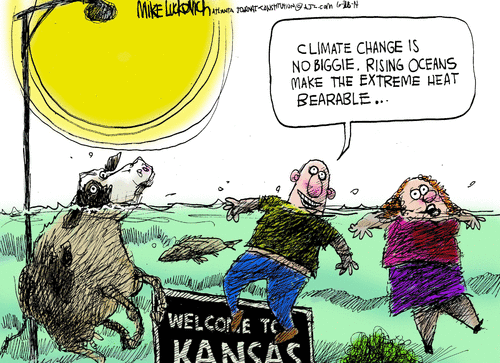 (Mike Luckovich via GoComics.com)
Cheer up, you could be stuck at "Porcfest" with the out & proud Libertarians! Ben Terris reports for the Washington Post on "Inside the libertarian version of Burning Man: Guns, booze and bitcoin":
LANCASTER, N.H.— Like any good bonfire, the evening ritual at the Porcupine Festival deep in the White Mountains of New Hampshire, includes a drum circle, plumes of marijuana smoke, shared bottles of whiskey and spirited debate.

There are also guns. Lots of guns…

Once a year for the past 11 years, this campground in the northern part of the Granite State turns into a libertarian utopia. And this year, roughly 2,000 people — mostly white men — have paid between $45 and $100 to experience for one week what life would be like without the onerous mechanisms of laws, if the market ruled to the exclusion of all else. Want to wear a loincloth and sell moonshine, shop at an unregulated market that accepts Bitcoin and silver, or listen to a seminar called "How the Collapse of the State is Inevitable"? Then this is the place for you…

I leave to check out Agora Valley, the unregulated market in the middle of the campground.

At the entrance, a group sells silver that its members minted. Across from its stand, a food vendor (sans permit, sans safety inspection) sells hamburgers and hot dogs for Bitcoin, Dogecoin, precious metals, or, if you must, dollars (or "Federal Reserve Notes"). Cellphone service is bad out in the woods, so sometimes people have to buy a sausage here, and walk down the hill, over by the Bitcoin ATM, where reception is better, so they can pay.

Puns are everywhere. One popular T-shirt: "Kill the Precedent." One popular ice cream flavor: Open-Carry Cherry. (Or, playing on the big in-joke here, that without government nothing can get done: "Who Will Build the Rocky Roads?"). A tractor rumbles by, spilling brown sludge out of a bucket.

"It's okay, it's Agora Valley, it should be covered in sewage," says an onlooker eating breakfast across from an outdoor tattooing station. "It's unregulated and we have no infrastructure."…
***********
With that appetizing idea in mind, what's on the agenda for the day?