Concern trolling is a fine art in politics, especially on the Internets.
Case in point: Jeffrey Goldberg, Atlantic and Bloomberg View staffer who writes almost exclusively about Israel and perceived threats to Israel (he's a former Israeli prison guard who admitted to beating prisoners, FYI).
Now, he's complaining people are writing too much about Israel: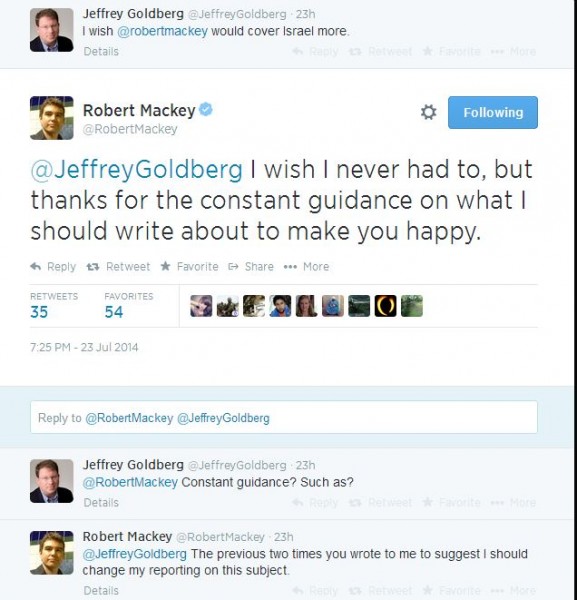 He wrote a whole article about how Syria is being ignored and people are "obsessed" with Gaza.
Goldberg pointing to Other Dead Muslims to distract from Israeli behavior isn't new. Here he is in 2012:

If there were enough Muslims in the press to be offended by this tactic, they would probably call him out on it. It's pretty obvious why the U.S. should be focused on Gaza and in particular the American press — because our political system is arming Israel and defending it, it isn't arming or defending Assad or Boko Haram. It's also been going on for fifty years of statelessness for the Palestinians.
By the way, Goldberg had a long interview with Obama in 2012, asking him about  Israels nemesis Iran but not Pakistan once.
UPDATE:
Just had to add this line in the aforementioned Goldberg column:
Judging by the number and scale of anti-Assad protests (or anti-ISIS protests) in the Muslim world, she is obviously on to something. The Muslim world does seem more interested in Arabs who are killed by Jews than in Arabs killed by Arabs, and I'm guessing that this influences the scope and scale of the Gaza coverage as well. 
I have been flooded with invitations to Syrian protests, fundraisers, and charity work since the revolution began in 2011. Thousands of Muslims care so much about getting rid of Assad that they've volunteered as foreign fighters to risk their lives to do it. Goldberg can ignore this, I guess, because he's the ex-IDF prison guard who is The Expert On Muslims and the media seems fine to keep it that way.