This guy at the very, very least, needs to have his ass hauled into the police station for a sit down:
The family of a young black man who was killed by police in an Ohio Walmart while holding an unloaded BB rifle and speaking on his cellphone have called for action to be taken against a 911 caller who claimed he was pointing the gun at people.

John Crawford III was shot dead last month by an officer responding to an emergency call made by Ronald Ritchie, a shopper standing 100ft away, who repeatedly stated to the dispatcher that Crawford was pointing the air rifle at customers.

Surveillance footage and audio recordings released after a grand jury declined to indict the officer who shot Crawford showed that Crawford was holding the rifle at his side and pointing it to the floor at the time when Ritchie alleged that "he just pointed it at, like, two children".

Crawford's father and the family's attorney said that Ritchie, 24, should be questioned by police over the discrepancy between the footage and his allegation, which he made about 80 seconds before Crawford was shot, and confirmed when asked soon after. Knowingly "making false alarms" is a crime under Ohio law punishable by a fine or jail sentence.

"He was the catalyst, if you will, in the whole sequence of events leading up to my son's death," John Crawford Jr told the Guardian. "It was a crank call. He excited the call, and exaggerated the call, and frankly it was just a bunch of lies."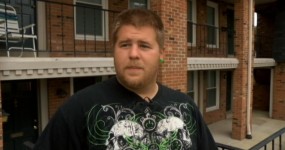 This guys is a class act:
The children who Ritchie appeared to claim were under threat from Crawford were in the store with their mother, Angela Williams. Williams, 37, died of a heart attack in the panic that ensued among customers following the police shooting. "I hope that he's happy with himself," her teenage son said of Ritchie in a Facebook post earlier this month.

Ritchie also told several reporters after the shooting that he was an "ex-marine". The Guardian disclosed last month that he was thrown out after seven weeks in 2008, after being declared a "fraudulent enlistment". He states that the problem was a mix-up in his paperwork.

In January 2012, Ritchie pleaded guilty in the Montgomery County municipal court to theft. All records of the incident have been expunged by the court and the Huber Heights police department. In 2010 he was fined $250 and given a year's probation after being convicted by Miamisburg municipal court of possession of drug paraphernalia.

Ritchie and his wife, April, have not spoken publicly since his Guardian interview. Both have changed their names on social media. The day before he called 911 about Crawford, Ritchie posted a meme on his Facebook page featuring the comedian Gabriel Iglesias. "Me, racist? The only race I hate is the one you have to run," it read. The post has since been removed.

One month later, Ritchie shared with his friends a story from the Tea Party News Network about a group of black men assaulting a white couple in Missouri. The story condemned President Barack Obama and Eric Holder, the attorney general, for ignoring the attack after speaking publicly about the killing of Michael Brown, an unarmed 18-year-old, in Ferguson, Missouri, last month. It described them as "race hustlers".
He also keeps changing his story. In my mind, he's a murderer for what he did.