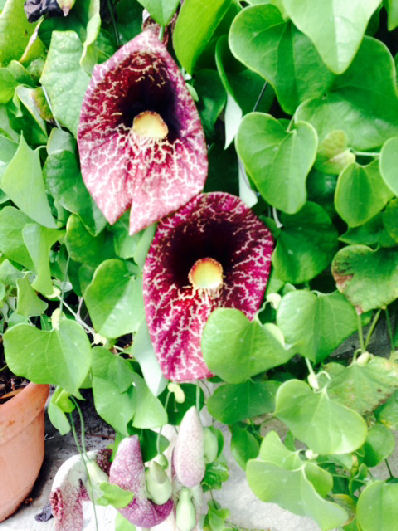 From mischievous commentor Dance Around In Your Bones, in southern California:
I saw this on my daily walk and it is the strangest thing I have seen in a while. Note the pods hanging salaciously at the bottom of photo – those turn into the odd flowers!

Thought this might be a good Garden Thread puzzle :)
And from commentor Stan of the Sawgrass:
I finally harvested the bananas from my one 'tree' (it's not really a tree) yesterday. Betty posted a picture of a stalk she cut a few weeks ago, but I thought I might go into a little more detail.

I grew up in the Everglades, then spent 23 years in Chicago. I always missed the bananas we had when I was a kid. There was practically a jungle of trees behind the garages, and of course that's where we played, made forts, and did all those secret kid things you don't talk about after you grow up. Mostly, someone's dad would cut down a stalk when it was ready to be ripened, but sometimes we just pushed a tree over ourselves when we saw the bananas were ripe. They were great: not sure of what species, but they'd been grown by the Seminoles, so they'd been around for a while. Tiny, about the size of a finger, which is why everyone called them 'finger bananas.' They were incredibly sweet, and had the most intense banana smell and taste that I can remember. 'Store bananas' (Cavendish) were a starchy, pale alternative, but they were always available, while finger bananas were an unpredictable treat. These are too big to be that variety (plus the 'tree' was too short), but past harvests were sweet and mellow, much tastier than I got from the local Publix.

We got five 'hands' (bunches) from this stalk. Even those some of those will go to friends, I'm still anticipating eating more than our fill of bananas. Banana bread and banana daquiris are in our immediate future, not to mention Thai bananas in coconut milk.



There is a place down in Homestead called Going Bananas that sells plants of almost every banana known to humankind– even things like blue (inedible) decorative species. I should head down there, if I can summon the gumption to make the long drive.

I've seen bananas growing in yards as far north as south-central Alabama, but they're tropical, no way around that. Unlike pineapples, which I once saw growing, and fruiting, in a dooryard garden in Chicago.

Tomorrow I'll need to push over the now-useless "tree" and make room for the next generation stalk, which is already growing but getting shaded out. Wish me luck.