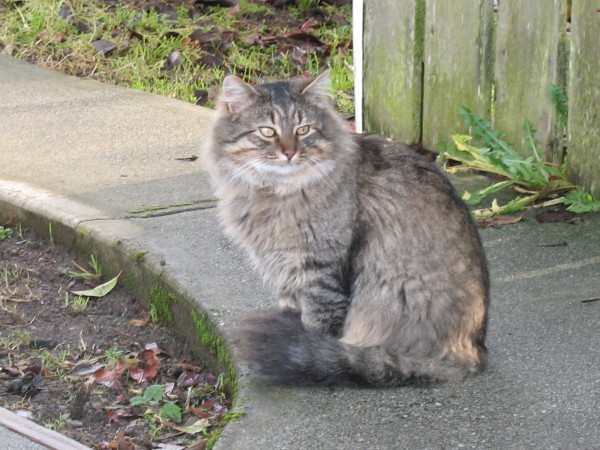 From commentor Triassic Sands:
For the past month I've had a stray cat hanging around my house. (I have three cats and they seem to act as magnets for strays.) He first showed up during a cold snap and I went ahead and started to feed him. I have an indoor/outdoor cat (a female) and they co-existed without any sign of conflict at all. Although the cat was an unneutered male, he has never displayed any aggressiveness at all.

Last Sunday night, I trapped the cat and Monday morning delivered him to a local service that spays and neuters stray and feral cats for free. They washed him, cut away some of his worst mats gave him rabies and distemper shots. He doesn't have fleas.

Although he wouldn't let me approach him outside, every day and night he came to my bedroom window, where I fed him. While he was eating, he allowed me to pet and scratch him and he clearly enjoyed the attention. Last Sunday morning after eating at 5am, he returned at 6am and I realized he wasn't hungry, he just wanted attention.

The cat is a medium-long haired adult male tabby, who has now been neutered and had some basic medical attention. It seems clear that he must have had a home at one time; he likes people and enjoys being petted, scratched, and brushed. Currently, he is recuperating from surgery in a cage in my garage. Although he did cry to let me know he was outside my bedroom window and wanted food, he is generally very laid back and quiet. His coat is dull and typical of a cat who's been out on its own. When warm weather comes, I'd shave him and let his coat grow in after he's been eating regularly for several months and had a clean, warm, dry place to sleep every night.

If I didn't already have a full house, feline-wise, I'd adopt this fellow in a second. Once he has a permanent home and learns to trust his human companions, I would expect him to be a really affectionate cat. I would also expect him to adapt to a permanent home quickly.

As I said, he has coexisted with my female cat without any signs of aggression or conflict — and that was before he was neutered. I have no idea how he would be around dogs. Ideally, I hope he can be successfully socialized into an indoor cat. I have to take one of my cats to the vet in early February; if I still have this cat, I will take him along and see if the vet can offer an educated guess about his age. I haven't weighed him, but he is a burly fellow, without being exceptionally large. He is lean and muscular. The woman who gave him one injection in his neck said his neck muscles were so hard it bent the needle.

I live in Sequim, WA on the Olympic Peninsula. If anyone would be willing to offer this really nice fellow a permanent home, please contact me through Anne here at Balloon Juice. I'm going to make an all-out effort to find him a home. I've been asking everyone I meet; I'm going to post an ad on the Peninsula Friends of Animals private adoption webpage; and at some point will probably put him on Petfinder.
From his picture & TS's description, this handsome guy has the "northern longhair" (Maine Coon/Norwegian Forest/Siberian cat type) personality — affectionate with humans, affable with other cats, happy to coexist with dogs (just ask our blogmaster!) If funds are needed to transport him to a new home, I'll be the first to donate. Anybody who's interested in adopting, or knows someone who might be, contact me (click on my name in the right-hand column, or email annelaurie (at) verizon (dot) net) and I'll put you in touch with Triassic Sands.