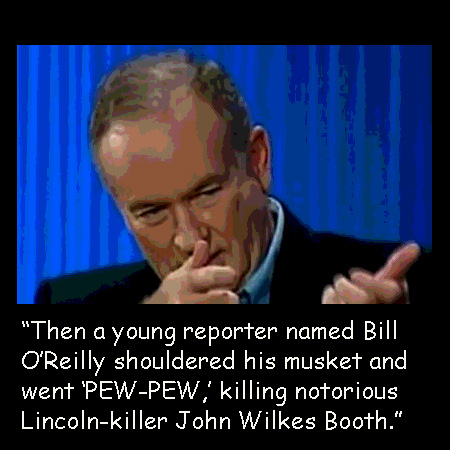 Gawker speculates that Fox News is backing off its defense of Bill O'Reilly as more evidence comes to light that O'Reilly lied about being on the scene of so many world-shaking events. I'm not so sure; O'Reilly is their top cash cow, so they'll keep him off the spit as long as possible.
But as Fox New's experiment with Glenn Beck proved, it is possible for even a prodigious moneymaker to become so ridiculous that he threatens to blow the network's "news organization" cover. That's the real danger to Murdoch Inc. media properties — not that their credibility will be diminished with their audience of elderly rage-o-holics but that the corporate media hacks who do "straight" news will stop pretending Fox News is a legit colleague.
And if that happens, who knows? Maybe corporate media entities will stop treating anti-science lunacy and political nihilism as just another valid viewpoint that deserves a fair hearing.