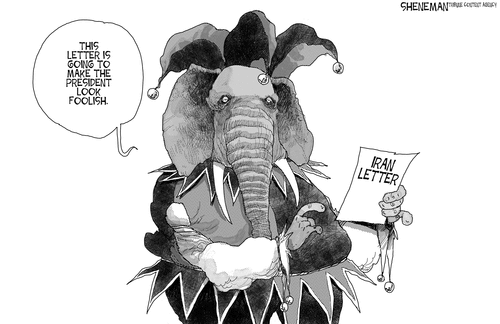 Wait, the GOP talking point on the #IranLetter is, "dudes, we were just being light-hearted"?! WTF??!! http://t.co/HheV7EnDcv

— Daniel Drezner (@dandrezner) March 11, 2015
This comment from a "top GOP Senate aide" is somewhere between stupid and sociopathic. http://t.co/2NDAXplqny pic.twitter.com/fyA1uiAdhQ

— Ali Gharib (@Ali_Gharib) March 11, 2015
That does indeed seem to be the "responsible, permanent-party, establishment" GOP fallback, if you believe the Daily Beast:
… "Before the letter, the national conversation was about Netanyahu's speech and how Obama's negotiations with Iran are leading to a terrible deal that could ultimately harm U.S. national security. Now, the Obama administration and its Capitol Hill partisans are cynically trying to push the conversation away from policy, and towards a deeply political pie fight over presidential and congressional prerogatives," said a Senate Republican aide whose boss signed the letter.

However, while some on the Republican side are now rethinking the wisdom of sending a letter, none of the 47 Republican signatories are recanting their support for it or signaling an intent to do so…
Of course they're not, because IOKIYAR (and besides, this stunt seems to have greatly impressed Tom Cotton's base voters). Nor is the Man Who Is Always Wrong About Everything…
If Obama Administration's capitulation to Iran is torpedoed, two leaders will deserve much of the credit: Bibi Netanyahu and Tom Cotton.

— Bill Kristol (@BillKristol) March 10, 2015
The fact that the Cotton letter is backfiring so spectacularly strongly suggests that the idea originated with Bill Kristol.

— Matt Duss (@mattduss) March 10, 2015

***********
Apart from giving thanks to Voltaire's God, what's on the agenda for the day?