So things went pretty well today, I think. Devon came down and we started by giving Lovey and Thurston and Ginger baths, then we had a family photo: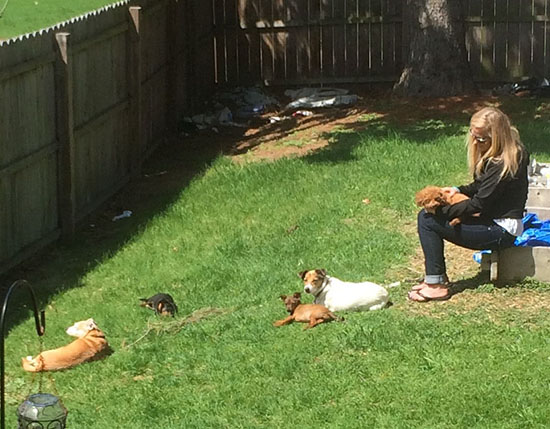 Got Lovey and Thurston loaded in the car, and stopped at the General Store to pick up some beverages for the ride. Lovey (the smart one of the two), was excited and raring to go: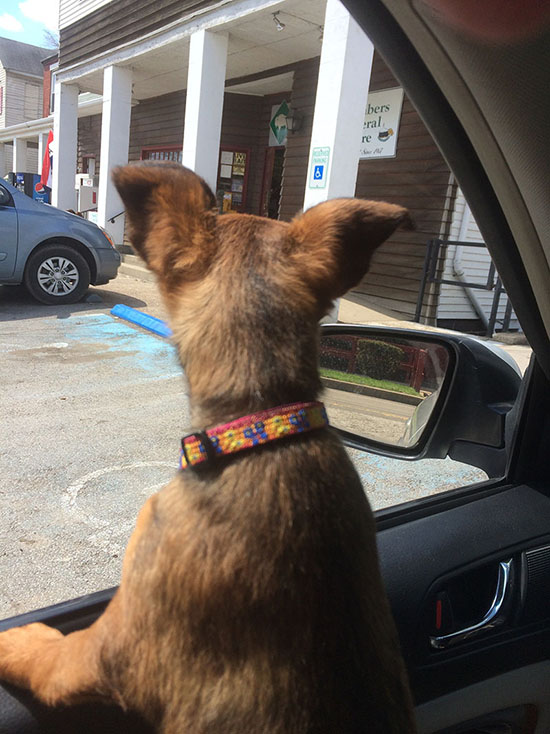 We stopped by the farm to see Harry and Chatman and the gang, and everyone was there (except Holly, who is in NYC for yet another minor surgery, the poor dear) for a farm clean-up day. They have one every year, where all their friends come and chip in and help clean up the brush and get everything pretty, and then they have a bonfire and a regular old hootenanny with live music and what not. This year is an important clean-up, because their Bed and Breakfast is opening in a few weeks (Barn With Inn– check it out). If any of you ever stay there, make sure you shoot me an email, and I will make sure that Lily, Rosie, and Thurston stop by for a quick cameo.
Took about 15 miles of winding roads to get to the interstate, and about 3 miles in to the ride we learned that car riding is not in Thurston's skill set. Devon screamed "He's going to puke" and then held him up pointing at me as if I didn't believe her and I reacted like anyone would when someone is pointing a projectile vomit gun at them "AIM HIM AT THE FUCKING FLOOR MAT ASSHOLE." Pulled over, let him finish, got driving again. He then salivated so much that Devon was completely soaked, and threw up four more times over the next 35 minutes. We had to stop and get wet naps and paper towels beforewe got to Geg6's pad.
Like I said, Lovey is the trooper of the duo, and our heroine knew something was wrong with her big brother, and tried to console him: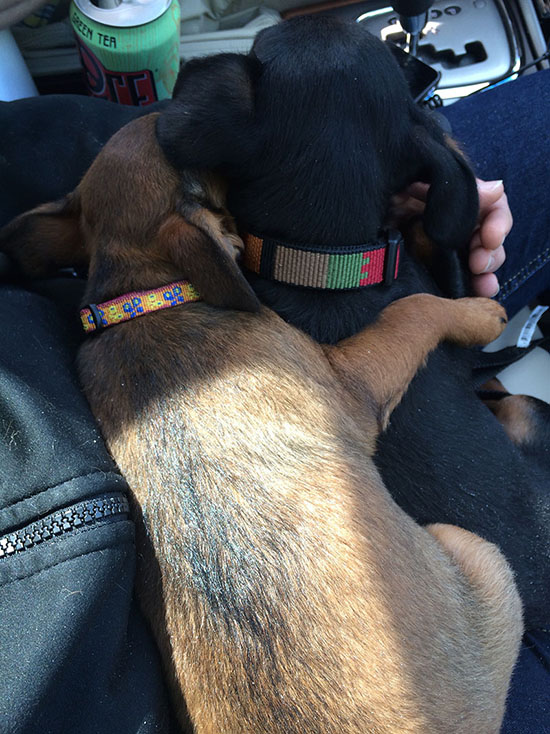 They got a little dandruffy from the shampoo, which is organic but I guess still a little tough on the wee ones. got to Geg's. went in and met Koda (who is a big ole sweet and calm lab, and I stayed for a while and chatted, but Lovey kept comingoverto my lap, so I went outside to the car to let Lovey acclimate to her new mom and dad and sister, while my sister did the adoption contract stuff. Tried to leave Thurston inside for that, but he followed me to the door and started crying so much that Devon had to bring him out to me.
They wrapped up, Lovey and mom came to the door to wave goodbye, and this happened soon after we left because GeG texted it to me within five minutes.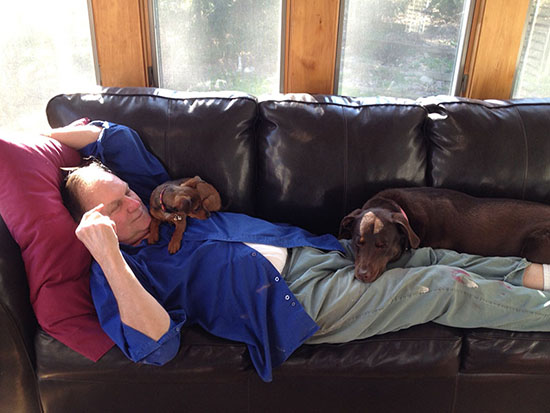 Dropped Devon off, picked up some Thai food, and drove home. I put Thurston in the crate for the ride home, and somehow he still had something in his stomach and puked 3-4 times more on the way home, so I had tobringthe carrier to the sink and just dump him in it and hose him off. He's such a hot mess of a wimp. About a month or so or more when GeG said she was interested, she wanted the one who would do better with another dog, and I didn't hesitate. Lovey is independent, smart, curious, speaks with her eyes, and she has really developed into a sweet little dog. I think it won't be long before GeG is sending us pictures of the two spooning.
At any rate, I'll let GeG send me some more picture, but I will be calling again tonight at around 9 and again sometime tomorrow. I think I am the one with the separation anxiety now.
I haven't rattled the tin cup in a while, but if you would like to chip in to help defray the costs of the rescues and medical care of some of the dogs my sister and her group rescue, feel free to hit the tip jar and I will forward it to them.