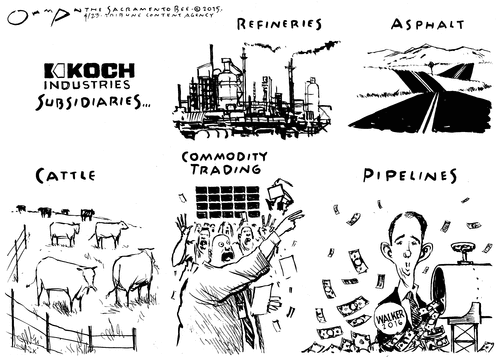 Bring in the full orchestral section of tiny violins, as Charles (Happy in Baronial Kansas) Koch explains his woes to USAToday:
WICHITA — Charles Koch and his industrial empire are mounting an aggressive new defense of his company and his political advocacy, with the billionaire insisting his work to help elect Republicans is rooted in his decades-long quest to "increase well-being in society."

"We are doing all of this to make more money?" Koch said of charges that his drive to limit government's power will increase his bottom line. "I mean, that is so ludicrous."…

His comments came during an interview with USA TODAY in his office at Koch Industries, where he discussed a wide range of topics — from the nearly daily death threats against him to what he termed the "hysteria" in some quarters about global warming.

(For the record, Koch says this of climate change: "You can plausibly say that CO2 has contributed" to the planet's warming, but he sees "no evidence" to support "this theory that it's going to be catastrophic.")

The publicity-averse CEO is stepping into the spotlight as Koch Industries launched a new advertising campaign this week that shows the company's reach into into all corners of Americans' daily lives — from the Lycra in their workout clothes and the gas in their tanks. A new "We are Koch" website tells uplifting stories about employees and beneficiaries of Koch philanthropy.

The company also is advertising in professional sports arenas and earlier this year inked a multi-year sponsorship deal to promote Koch Industries during college basketball and football games at 15 universities. It's all part of a 10-year marketing campaign to introduce Koch to the American public in new ways, said Steve Lombardo, a veteran Washington marketing and crisis communications expert hired last year as the company's chief communications and marketing officer…

Malcolm Harris, a professor of finance at Friends University in Wichita, said Koch's political activity may be hurting his ability to retain and recruit talent to his ever-expanding business empire. In the last two years or so, Koch Industries has acquired all or parts of more than two dozen companies, including Molex, an Illinois-based firm that makes electronic components for products such as iPhones, that Koch purchased for $7.2 billion in late 2013.

"When you acquire companies, you acquire a lot of employees," Harris said. "You want them to become part of your team, and it may be hard if they are thinking, 'Oh gee. Aren't those the guys that eat babies in the morning?' "…

To hear Koch tell it, he's a reluctant political warrior — drawn into elections as a last resort because the ideas he's been promoting for 50 years about curtailing the government's power haven't gotten enough traction.

(He doesn't consider himself a Republican, by the way, although he's registered as one because in deep-red "Kansas, that's the game.")…
Yeah, he's not a Republican, he figures he & his brother have bought up enough of the GOP infrastructure and membership that they've all become Kochtopians. Wonder when during the "10-year marketing campaign to introduce Koch to the American public in new ways" they'll introduce the official rebranding?
***********
Apart from the sorry acknowledgement that the corrosive rich will do what corrosives gotta do, what's on the agenda as we wrap up the weekend?