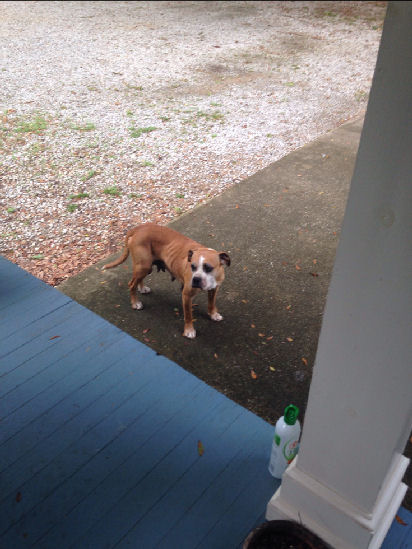 UPDATE from Joy:
Hello everyone! Thank you so much for your care and concern. This little old lady has captured my heart in a matter of days. Since getting a few good meals and water she has become more energetic and playful with my two mini schnauzers. I took her to the vet and the tumor is benign and the "least of our worries". She who I now call "Belle" is heart worm positive. I have a temporary foster in line that will take her for a couple weeks until something more permanent becomes available. I only could afford the exam, heart worm test, flea treatment and intestinal de-wormer. Financial help is certainly needed to treat the heart worms. I know she would make a great pet and it breaks my heart that I'm not here long term to keep her. Thank you all in advance for you help!
I've written to Joy — what we've done before, with other rescue pets in need, is Joy can use her PayPal account (or set up a PayPal account) for donations to help Belle get healthy. Once she's given me the okay, anybody who wants to chip in can email me, and I'll forward your email to Joy "off the blog". That way nobody has to put their address out "in public". Will let everybody know as things develop…
***********
From beloved commentor & dog-rescuer Satby:
Super Emergency pet bleg!

Joy is a friend of mine who works in NYC and was home for a week wrapping up her permanent move. She's very anxious for this dog, she's afraid that the SPCA or Animal Control in her area will just put the dog down without even checking on if the tumor is benign. She has to fly out in the afternoon tomorrow and called me as a last resort to see if I knew rescues in the Mobile AL area that might be willing to take this sweet girl. Appears to be a boxer mix.

I thought I'd ask the hive mind of Balloon-Juice for ideas or rescue leads in the area…

Hey Sharon! This is the sweet pup I called about. I came back from NJ to find her living underneath my utility shed. She was obviously dehydrated and starving to death. She has such a great demeanor and I know she would be a great pet and wonderful with other dogs. She has some sort of tumor hanging from her left leg. I've tried to reach agencies here in the area but they are all full. I feel awful having to leave and I would certainly keep her if I was living here full time. I hope you are able to help. Thanks!
Anybody have a lead for a rescue or shelter in the area that might have room for this poor girl?
Or a transport group that could take her from Mobile to an area where she might have a better chance at finding a permanent home?
Leave a comment below, or contact me directly (click on my name in the right-hand column or annelaurie at verizon dot net) and I'll put you in touch with Joy.
If funds are needed for transport / care / medical issues, I'm sure we can chip in to help…