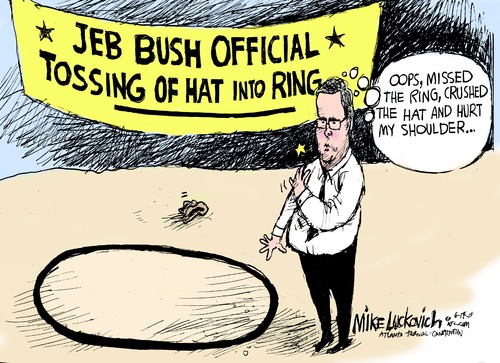 Robert Costa, at the Washington Post:
When Jeb Bush first ran for governor of Florida in 1994, his father had recently been booted out of the White House, and the ­40-something son very much wanted to be seen as his own man. So, when it came time to design his bumper stickers, he went with a red background and "Jeb!" in chunky, white letters.

There was no mention of his famous surname or his party, and the jolting exclamation point was the opposite of his family's Kennebunkport reserve. Bush ended up losing that race but keeping the brand, reusing the logo in his 1998 political comeback and in his 2002 gubernatorial reelection campaign.

Now "Jeb!" is back…
Read my lips, John Ellis BUSH!: You can't peel away from your criminal background — any more than the "ex-convicts" you gleefully disenfranchised to help steal the 2000 election for your idiot brother — because without your family connections, licit and otherwise, today you'd be a mid-level executive at a Miami used car dealership. At best.
These last six months, I've traveled the country, sharing my life experiences with folks along the way. https://t.co/DRfAzPYNQb

— Jeb Bush (@JebBush) June 13, 2015
Hardscrabble upbringing, parents moved around a lot, etc https://t.co/b1VH9N0gpE

— Matt! (@mattyglesias) June 13, 2015
From the AP, "Bush still with much to prove in leaderless GOP 2016 race":
… Back in December, the former Florida governor said he was exploring a 2016 run, an announcement that by itself had the power to kick off the campaign.

In the six months since, Bush probably has shattered a fundraising record as well as pioneering a new approach to White House campaigning. He has just completed a well-reviewed trip through Europe.

Supporters had hoped that this son of one president and brother of another would by now hold a commanding position in an unwieldy Republican field. Yet he has not broken away from the pack.

"I know that I'm going to have to go earn this," Bush said this past week. "It's a lot of work and I'm excited about the prospects of this. It's a long haul. You start wherever you start, and you end a long way away from where we are today, so I just urge everybody to be a little more patient about this."…

He has failed to scare any potential rival from the race, except perhaps 2012 nominee Mitt Romney. He is unpopular among some of his party's most passionate voters and little known beyond his home state despite the Bush name…
Wow… 75% of Florida voters today have never seen Jeb Bush's name on a ballot http://t.co/Xw2TBspMLI

— Taegan Goddard (@politicalwire) June 14, 2015
Politico, sniffing the professional handlers' jocks discussing process:
… Word of tensions on team Bush started to surface. Their plan to intimidate other candidates with what had once been called a "shock and awe" campaign shocked and awed no one. While it might have helped keep Romney out of the race, those familiar with his thinking say Romney had only given it a passing thought in early January at the urging of a few donors.

Last week, the campaign came into clear focus when it announced its official structure. And, amid all the chatter of tensions in Bush World, it had the appearance of a shake-up. There were disagreements about money, messaging and direction. Exactly who said what is unclear. Kochel, who had clashed at times with Bradshaw, wouldn't be campaign manager, but instead would be the chief strategist, focusing intently in the short term on early states. Danny Diaz, a tough operative, will be campaign manager, handling the day-to-day operations of the campaign….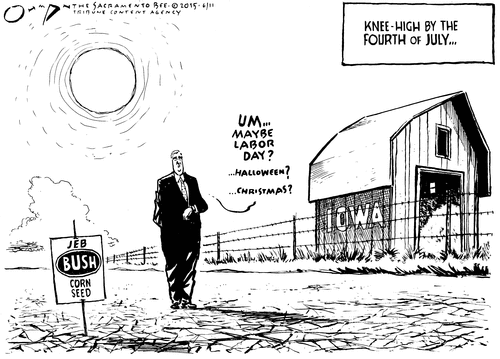 As the NYTimes saw it, "Jeb Bush Works to Recover From a Shaky Start":
… Mr. Bush's new campaign manager, Danny Diaz, is widely known in Republican circles as a hard-edge operative who is driven by trying to dominate daily news coverage with his candidate's message or his rivals' weaknesses. (The previous manager, David Kochel, is known as more cerebral.)

Mr. Diaz, who seared John Kerry in 2004 and Mitt Romney in 2007 with charges of flip-flopping on issues, and other Bush aides are determined to develop new lines of attack against Senator Marco Rubio of Florida and Gov. Scott Walker of Wisconsin, the two Republicans who represent the greatest threats to Mr. Bush's nomination, according to his advisers and allies…

… By hiring Mr. Diaz, Mr. Bush wanted to send a clear signal that "the culture of the Bush operation will now be a Pickett's Charge engagement campaign with his main opponents," according to one Bush ally.…
Jebmuntum http://t.co/ufg9M3aXdq pic.twitter.com/ENTxhHNPmb

— Matt! (@mattyglesias) June 14, 2015
They sent 12,000 men to take Cemetery Ridge. It didn't work, and they suffered a 50 percent casualty rate.

— Matt! (@mattyglesias) June 14, 2015
Professor Krugman recalls another example of a certain… lack of intellectual curiosity: "Don't Know Much About History, Jeb Bush Edition":
… How was he to know that "unleashing Chiang" was about landing Kuomintang troops on the mainland, where they would have been slaughtered? (Maybe that Pickett comparison isn't so off after all.)