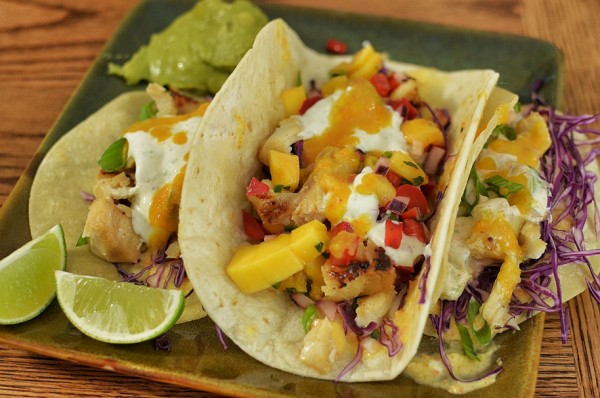 From our Food Goddess, TaMara:
I was planning to put together a salad for dinner on Wednesday after a long day, but when I looked around I had all the ingredients for tacos and that inspired both dinner that night and tonight's recipe exchange.

For my tacos that night, I used homemade fajita seasoning (recipe for seasoning and fajitas here) instead of packaged taco seasoning. The recipe makes a lot, so I always have some on hand.

On the taco front, not to be missed are JeffreyW's awesome Fish Tacos (pictured above, recipe and photo directions here).

Earlier in the week, an excellent and creamy, sharp goat cheese was the center piece of my Stuffed Burgers (recipe here) for dinner. So easy to make and full of juicy flavor.

The Dinner Menu was a given, since Olathe Sweet Corn finally arrived in stores. This menu was also the first one I put together many years ago, because it was and still is, a summer staple. Menu, recipes and shopping lists here.

For the pet lovers, here's Bixby awaiting our lunch guests and a bonus Greek Pasta Recipe.

With that I leave you to the comments. Tacos, burritos or fajitas, what's your favorite? And what's on your weekend menu as we move into the last month of summer?
Friday Recipe Exchange: Grilled Herb Steak TacosPost + Comments (58)