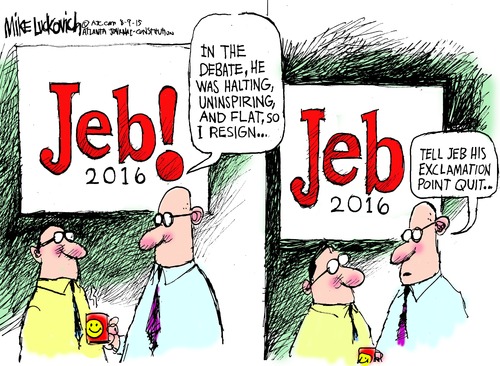 I believe Mike Luckovich has more fans among the Balloon Juice commentariat than… some other cartoonists.
And work like this is why I am a Charles P. Pierce fangirl:
There are weeks on the Sunday Showz in which you just throw your hands into the air and shout terrible imprecations at Gutenberg for afflicting mankind with the curse of mass communication. This was one of those weeks. I do appreciate the magnitude of the problem now facing our elite political press. One entire political party has become completely unmoored from reality. This was amply demonstrated on Thursday night in Cleveland. The Republican party held two debates in which one candidate explained about how the EPA should be reduced in size and influence only to the point at which he could sic it on Planned Parenthood. Another candidate proposed biblical tithing as a mechanism for that plutocrat's friend, the flat tax. Two candidates proposed giving Zygote-Americans Fifth and Fourteenth Amendment rights. It was downright remarkable how unremarkable these lunatic propositions seemed to be. All the attention centered on whether or not a ferret-headed plutocrat was mean to the nice lady from Fox who believes that Santa Claus is white.

Now comes Sunday morning, and we discover that it continues to be impossible for our elite political press to admit what is plainly before its eyes – that one of the two political parties that we have allowed ourselves through inertia and custom to have has become demented, and that the political health of the nation in general is in peril unless that dementia can be overcome. Because of this inability to attach itself to obvious reality, the elite political press has rendered itself incapable of performing the necessary function of calling out con-men and identifying nutty ideas before they reach the mainstream political life of the country and turn it into a SuperFund site….