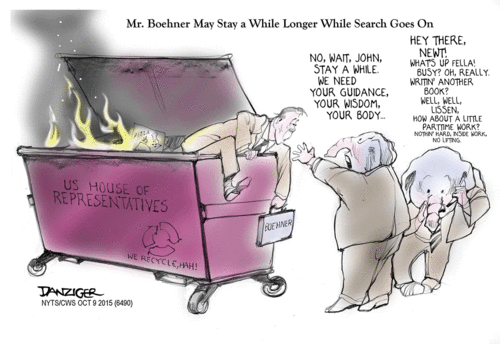 "I have accepted a seat in the House of Representatives, and thereby have consented to my own ruin…" — John Adams, 1770

— McKay Coppins (@mckaycoppins) October 8, 2015
Count on Politico to be earnestly solicitous of the badly bruised (self-abused) Republican caucus, describing "The 14 days the House went to hell":
…[T]he man whom party honchos are begging to run for one of the most powerful jobs in Washington — 45-year-old Rep. Paul Ryan of Wisconsin — wants none of it…

The upshot is that House Republicans, for the time being, will be left with the same speaker several dozen of them just forced out — only in lame-duck form. Which nicely sums up the state of the House GOP Conference: Those who want to be speaker can't line up the votes, and the one person who's popular enough to win is desperate to avoid the job…

With Ryan demurring, literally dozens of lawmakers have been floated — or floated themselves — for the speaker's job. Yet it's not clear if any of them have support. Here's a short list: Reps. Lynn Westmoreland (Ga.), Conaway, Peter Roskam (Ill.), Tom Cole (Okla.), John Kline (Minn.), Darrell Issa (Calif.), Marsha Blackburn (Tenn.), Jeff Miller (Fla.), Bill Flores (Texas) and Pete Sessions (Texas). That's 4 percent of the House Republican Conference…
And that doesn't even include one of the first and loudest aspirants to lunge for the throne:
Remember when Chaffetz stupidly exposed Benghazi as a CIA outpost on nat'l TV? The media seems to have forgotten pic.twitter.com/17BGts53Ty

— Pat Bagley (@Patbagley) October 9, 2015
… possibly because Rep. Chaffetz was forced to wrap up his week by admitting that his personal show trial against Planned Parenthood "failed to find any wrongdoing."
Another highly-touted candidate has made it as clear as possible that he'd just as rather some other notoriety-seeking grifter accept the poisoned chalice:

Gowdy on Ryan "I have spent more time trying to talk him into running than I did my wife into marrying me" @jestei http://t.co/2VTRdJyZ5U

— Michael Tackett (@tackettdc) October 9, 2015
Artificial Silk Magnolia Kathleen Parker, who believes Ryan has a "higher calling" (no, seriously, she says that), brings up another caltrop on the road to Tehadi supremacy:
… …[T]he extortionist Freedom Caucus booted two of their membership's top three fundraisers with Boehner and former majority leader Eric Cantor (R-Va.), who lost his seat last year to a tea party candidate, and now have rejected the third, McCarthy. Not only have these three brought in the biggest hauls through their campaigns and super PACs but they've also been the most generous — including to those who now smite them.

The Freedom Caucus's preferred choice for speaker, Rep. Daniel Webster (R-Fla.), has raised $5.6 million since his election in 2010 and shared just 2 percent of that amount, according to opensecrets.org, which monitors such things. Rep. Jason Chaffetz (Utah), who picked up the speakership ball as soon as McCarthy fumbled, has raised just $3.4 million since 2008 and shared only 7 percent. Compare this with McCarthy's trove of $25.5 million since 2006, of which he shared 34 percent with party and colleagues…
weird that the guys who want to destroy the government and promise to break it are crying like children because they fucked it up on purpose

— decomposing dadbod (@Mobute) October 8, 2015
Moonbat snarksists, of course, have our own preferences. Jim Newell, for instance:
… Newt Gingrich — As every annoying D.C. pundit will tell you over and over again: Actually, the speaker doesn't have to be a member of the House. So why not a former speaker who led House Republicans to their first majority in 40 years?

This is a half-joke, and it's only worth bringing up because Gingrich, with his supremely comical ego, is almost certainly thinking about it in the back—or front—of his mind. The McCarthy stunner produced any number of juicy quotes Thursday. None, however, topped this one from Gingrich: "This is why George Washington came out of retirement—because there are moments you can't avoid."…
Ezra Klein, at Vox, suggests "House Republicans should elect Mitt Romney speaker. No, really."
Thinking they should just put the Speaker's job on http://t.co/iO7WNqH46h and hope for the best.

— Karen Tumulty (@ktumulty) October 9, 2015
I have a jingoistic patriotic preference for the local Chauncey Gardiner, as described by Mr. Charles P. Pierce:
… A person much smarter than me has a great suggestion for the House Republicans if they fail to convince Paul Ryan that he can still do zombie-eyed granny-starving from the Speaker's rostrum….[W]hy not a hunka-hunka man who presents well on television.

Former Senator McDreamy, come on down!

He's not doing anything now except holding open houses for passing political vagrants and insulting his betters. Give him a spot where he can ride in limos and not do much. The man is perfect for the job. And, if the Democrats somehow take back the House, he can hand the gavel to Nancy Pelosi, since he's quite used to surrendering to women by now…
Whatever happens, the one pundit most liable to be graded 100% correct over the short term is Ed Kilgore, at the Washington Monthly:
… [B]race yourself, dear readers, for an orgy of celebration of Ryan by GOPers over the weekend, up to and including the sentiment that he ought to be running for president instead of these bozos who can't seem to figure out how to deep-six unintentional comedy acts like Donald Trump and Ben Carson.