I identify as an atheist these days, but to be clear, I'm a Jewish one.  By that I mean that the religious education I received and the ongoing value I find in some ritual and more reading and thinking about the tradition to which I'm heir inform a lot of the way I try to understand and act in the world.
That's the framework in which I found myself gagging and raging at the nonsense behind this "prayer shaming" horse hockey.
My response?  Ein bischen Deuteronomy:
29 The secret things belong unto the Lord our God: but those things which are revealed belong unto us and to our children for ever…*
That I (and many exegeses I've heard on this verse, which is slapped all over the Jewish High Holidays liturgy) gloss as that which we know, that which we see in the world — that's what it falls to us to repair.
Then there's James 2:14-16 — of which I was reminded by a Twitter correspondent when I started slinging scripture there earlier in the day:
14 What doth it profit, my brethren, though a man say he hath faith, and have not works? can faith save him?

15 If a brother or sister be naked, and destitute of daily food,

16 And one of you say unto them, Depart in peace, be ye warmed and filled; notwithstanding ye give them not those things which are needful to the body; what doth it profit?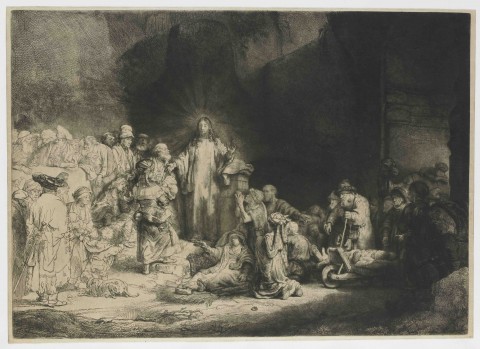 To those of us whose scriptural knowledge resides mostly in the Jewish bible, the echoes of Isaiah 58: 3-7 are inescapable.  (This is another one of the greatest hits of Yom Kippur):
3 Wherefore have we fasted, say they, and thou seest not? wherefore have we afflicted our soul, and thou takest no knowledge? Behold, in the day of your fast ye find pleasure, and exact all your labours.

4 Behold, ye fast for strife and debate, and to smite with the fist of wickedness: ye shall not fast as ye do this day, to make your voice to be heard on high.

5 Is it such a fast that I have chosen? a day for a man to afflict his soul? is it to bow down his head as a bulrush, and to spread sackcloth and ashes under him? wilt thou call this a fast, and an acceptable day to the Lord?

6 Is not this the fast that I have chosen? to loose the bands of wickedness, to undo the heavy burdens, and to let the oppressed go free, and that ye break every yoke?

7 Is it not to deal thy bread to the hungry, and that thou bring the poor that are cast out to thy house? when thou seest the naked, that thou cover him; and that thou hide not thyself from thine own flesh?
All of which points to a conclusion obvious to the non-sociopathic: prayer is a conversation one has in private. It does not exhaust — it does not begin to meet — the sum of what a would-be good person must do.  And not just that:  Jewish scripture and Christian testament, and a metric fucktonne of secular reasoning all come to the conclusion that public piety is meaningless without the actual work of repairing the world (the Hebrew phrase is tikkun olam).
Which is why I find the crap purveyed by gun-murder-enablers suggesting that religiosity is no substitute for actually taking action so hateful, even vicious.  If I were a believer I would say that there are circles of hell for those who know why innocents are slaughtered, and yet do nothing, actually bar the way to doing anything, to prevent those deaths.
And yeah — I know that this is belaboring the obvious. But what's a blog for, if not for the endless flogging of deceased equine quadrupeds?
*You may notice that all these quotes come from the King James version.  A heterodox choice for one who identifies as Jewish.  But oh, my friends, and ah, my foes, that music!
Image: Rembrandt van Rijn, The Hundred Guilder Print  (also: Christ Preaching and/or Jesus healing the sick) c. 1646-1650.