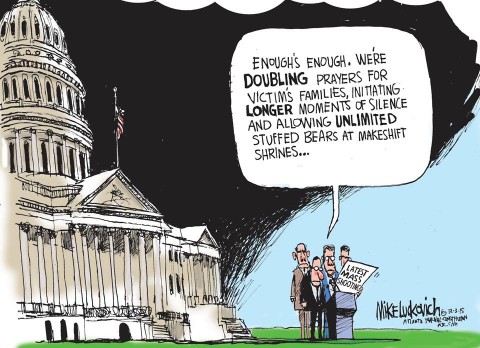 And I'll note that the good Dr. Pierce still has his fastball:
​Have you noticed? There's a new thing that progressives should not do, because it will scare the horses and frighten the children, and harsh the holy mellows of the various tent-show evangelicals currently at work in Republican politics. It is called "prayer-shaming."  It became a thing in the wake of the San Bernardino massacre, when Republican candidates immediately leaped onto Twitter to send "thoughts and prayers to the victims and their families." This time, however, a  great number of people, most notably Senator Chris Murphy and the editors of the New York Daily News, decided that up with this pious swill was something that they no longer would put.*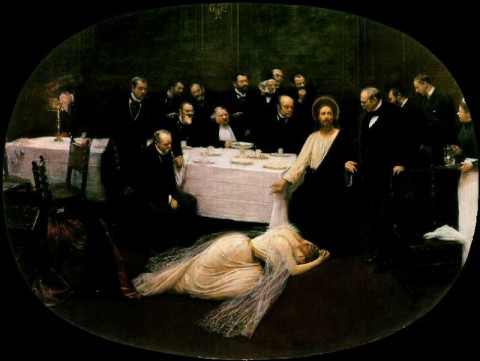 Well, Charles.  Tell me what you really think:
I am heartily fed up with this nonsense. I am heartily fed up with people whose personal relationships with their personal Lords And Saviors lead them to knuckle the poor, subjugate women, brag about their gunmanship, and topple inconvenient regimes that happen to be sitting on an ocean of oil. I am heartily fed up with people whose support for Israel is based on a couple of misunderstood passages from the craziest book in the Bible in which Jesus comes back to Earth as an X Man and gets into some enthusiastic disemboweling. …
There's more stupid out there today on this heinous sin of identifying ostentatious piety as the gun-murder-enabling horse hockey it is. But we are none of us surprised, are we?  Channelling my inner (and likely apocryphal) Abe L., if the [insert favorite conception of the deity here] were to exist, we'd know s/he'd love hypocrites, 'cause s/he made so damn many of them.
So let's just chat among ourselves, shall we.  Today's prompt:  which ethnic or racial group do you think Trump will insult next?  Bonus points for the most authentic sounding Trumpismo gibe.
 *Not to go all style police or anything (FSM knows, glass houses and all that), but my Brit mum used to attribute that construction to Winston Churchill in the original form "This is the kind of chicken shit up with which I shall not put," and that's how I think it ought to read here.
Image:  Jean Béraud, The Magdalen at the House of the Pharisees, 1891