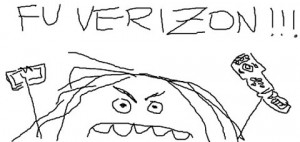 My Internet connection went down, so I called my shitty provider for tech support and got sucked into the seventh circle of automated voice response menu hell. Finally got shoveled into the queue for tech support.
The automated voice kept coming onto the line every 30 seconds to tell me that if I wanted faster service, I should visit fuckyousuckerwegotyermonies.com. After hearing that for the fourth or fifth time, I pointlessly screamed into the receiver: "IF I COULD GET ONLINE I WOULDN'T BE CALLING YOU, MOTHERFUCKERRRRRSSSSSS!!!"
If an obscenity is shrieked into a dead phone line, does it make a sound? Yes, because it frightened my dogs out of the room and caused birds who were at a feeder 15 feet distant to fly away. The end.