This:
Former President Jimmy Carter announced Sunday that his brain cancer is gone, NBC News reported.

Carter, 91, said an MRI earlier this week revealed the good news, which he broke to a Sunday school class he teaches in his home state of Georgia, according to NBC News.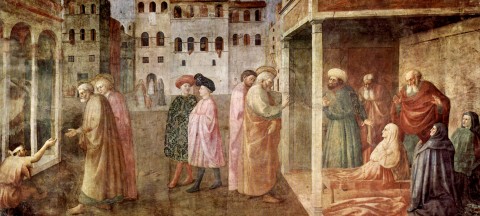 Not even remotely a cancer doc, me, but I do know that while a clear scan does not mean one is cancer free forever, it sure as hell is better news than the alternative.
Jimmy Carter is a great human being, the best ex-President in history (and much maligned and under-valued in his presidency as well, IMHO).  Given this summer's announcement, it has to count as very good news to know we'll have him on the planet with us a while longer.
And with that — this thread is of the species that is open.
Image: Masolino, The Healing of Tabitha, c. 1420s.