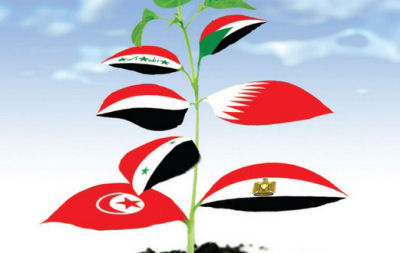 *
Five years ago today Mohamed Bouazizi set himself on fire in Tunisia as a protest against injustice. The specific injustice was being repeatedly hassled by Tunisian law enforcement and other officials over his vegetable cart. Bouazizi's actions are credited as being the straw that broke the camel's back in Tunisia, touching off the beginnings of a popular uprising against the Tunisian government. As similar events began to occur in other states across the Middle East and the Maghreb, western (specifically American) media lumped all of these together and declared an Arab Spring. The media did this because doing any real, in depth reporting to try to understand the different grievances and movements and causes in different parts of the Middle East would have required actually expending resources like money and time and it would have also been hard. Also, no one ever paid advertising dollars for nuance, which is why all of Morning Joe glazed over a couple of days ago when an Assad cousin explained that 50% of Syrians are from minority religious sects and that when you include Sunni support for the current government, over a bare majority of Syrians are NOT actually supporting the various rebels and the rebellion. Who could've known?
As a result, however, the common (official?) perception is that the Arab Spring was a series of related events throughout the Middle East that has largely ground to a halt, stalled, been rolled back, or been defeated. None of this is true. While there are some similarities; specifically large numbers of disenfranchised and/or disillusioned citizens and subjects in many of the countries lumped together as the Arab Spring rising up, pushing back, or rebelling against the political, economic, religious, and social status quo, there are also many differences. It makes little sense to argue that an act of protest rooted in a very local and localized form of authoritarian pettiness in Tunisia was the driver for the Syrian Civil War or the Egyptian revolution and counter-revolution.**
Regardless of the sound and fury that today's faux birthday for a faux Arab Spring will bring it is important to remember Mohamed Bouazizi. There are some important reasons for this. One is that it is possible for the actions of one person, even a desperate, unconsolable individual who feels that he/she is at the end of their rope, can inspire others to attempt to and sometimes achieve positive change. Mohamed Bouazizi is an example of such. A second reason is that whether he knew it or not or his self immolation was intended or such, Mohamed Bouazizi provided the world with a real demonstration of what the Islamic understanding of martyrdom (shahadat) is. Jami'at al Tirmidhi, The Reliance of the Traveler, as well as other scholars actually define shahadat as one sacrificing their own life to point injustice out to others***. This is important as Bouazizi's self sacrifice born of frustration provides a very real and very recent example of what shahadat is as opposed to what al Qaeda or the Islamic State says it is: sacrificing one's life to kill unbelievers and apostates to cause terror and spread fear and panic. Finally, Mohamed Bouazizi's actions also demonstrate to us that one person can, in fact, become something bigger than just a person. This last lesson, related to the first, is an important one that we all too often forget or ignore at our own peril.
* Arab Spring image was found here.
** If you really feel the need to subject yourself to it, you can click over to here and watch a presentation I made in January 2012 on the Arab Spring as part of the US Army War College's Great Decisions Lecture Series. The presentation was given at the Army Heritage and Educational Center (AHEC). In it I fully go through why I don't think there's an Arab Spring. Also, the one comment is really funny. I have no doubt that the recommended speaker would have given a great talk. Of course he wasn't assigned to/working at the US Army War College and this series always features US Army War College personnel. So…
*** Somebody posted my entire article online here, I don't know who, I really don't care as I've had three actual academic presses rip me off to publish it as a chapter reprint in other people's edited volumes. The last one actually contacted me, which was nice, for permission. When I said no they did it anyway. And before someone chimes in – I have shared copyright with The Journal of Church and State, so it can't actually be republished this way without my approval. Not that that does me any good. And while I'm glad each republication gets it more attention, I do like to be paid for my work! Though I was really flattered when, at one time, it was posted on a site devoted to explaining Islamic religious and jurisprudential concepts that was run by actual Muslims.