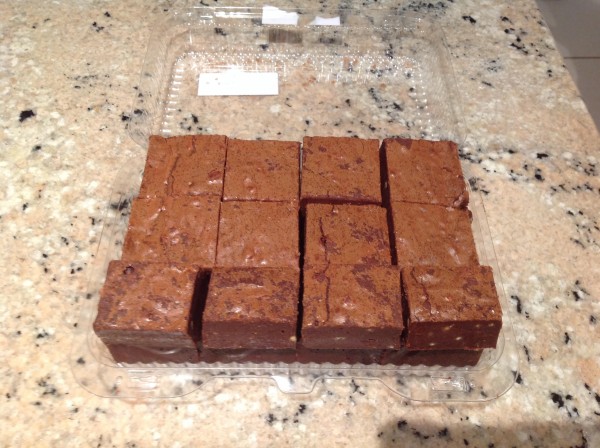 The brownie was created at the Palmer House Hotel (now the Palmer House Hilton) in 1893. Mrs. Palmer, the hotel proprietor's wife, asked her chef to create a new and unique dessert to be showcased at the 1893 Columbian Expedition being hosted in Chicago.
About ten years or so ago I was able to get my hands on the original recipe, which calls for an apricot glaze (which I don't use), and tweaked it a bit. I recently made a batch as a thank you gift and took the picture above of the sliced brownies just about ready for shipment.
So here's my take on the original brownie recipe*.
Ingredients:
1 pound, 2 ounces semisweet chocolate
1 pound butter
1 pound and 8 ounces light brown sugar
8 ounces cake flour
1 tablespoon baking powder
4 eggs
1 pound crushed walnuts
Directions:
Melt chocolate with butter in double boiler. Mix dry ingredients, except walnuts, into mixing bowl. Mix chocolate with dry ingredients, 4 to 5 minutes. Add eggs. Pour into 9-x12-inch baking sheet, sprinkle walnuts on top, press walnuts down slightly with your hand and bake in a preheated oven at 300 degrees for 40 to 50 minutes.
You will know the brownie is done when the edges start to become a little crispy and the brownie has raised about quarter-inch. Note that even when the brownie is properly baked, it will test as gooey with a toothpick in the middle due to the mixtures richness.
After removing from oven, allow to cool to room temperature then refrigerate over night before cutting.
* The original recipe calls for use granulated sugar. When I use granulated sugar I find that the mouthfeel of the brownies seems grainy. The light brown sugar alleviates that. The original recipe also calls for semi-sweet chocolate, but I prefer the dark chocolate.  One final important note: I don't use the walnuts. Instead I mix toffee bits into the brownie batter.
Bon appetit!