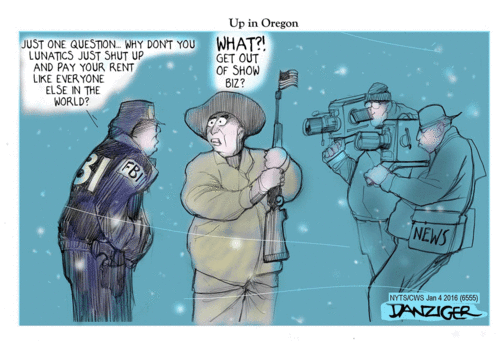 (Jeff Danziger's website)
First, the earnest truth from Mr. Charles P. Pierce…
… This is an act of armed sedition against lawful authority. That is all that it is, and that is quite enough. This is not "an expression of anti-government sentiment." Flipping off the governor as he drives by is "an expression of anti-government sentiment." What Alex Jones does every day is "an expression of anti-government sentiment," and god bless them all for it. That's what the Founders had in mind. This is not an "occupation" following "a peaceful protest." That would be all those folks who got bludgeoned and pepper-sprayed out of Zuccotti Park a couple of years back. (And when exactly did ABC News decide it wasn't a news organization anymore?) These are men with guns who have declared themselves outside the law. These are men with guns who have taken something that belongs to all of us. These are traitors and thieves who got away with this dangerous nonsense once, and have been encouraged to get away with it again, and they draw their inspiration not solely from the wilder fringes of our politics, either. Ammon Bundy and his brothers should have been thrown in jail after they gathered themselves in rebellion the first time.

This is another step down the road that leads to the broken shell of the Murrah Building in Oklahoma City. There are respectable people in our respectable politics who have been shamefully silent on the subject, and there are respectable people in our respectable media who seem terrified of calling this what it is. You want an example of the deadening effect of "political correctness" in our politics? Watch what the people running for president have to say about this episode. Look at how it is being framed already—or ignored entirely—by the elite political media. There is a constituency for armed rebellion in this country that is larger than any of our respectable political and social institutions want to admit. It is fueled by reckless, ambitious people who engage in reckless, ambitious rhetoric…

There is no actual tyranny in this country against which to take up arms. There is bureaucratic inertia. There is pigheaded bureaucracy. There even is political chicanery. But there is no actual tyranny in the Endangered Species Act, or in the Bureau of Land Management, or in the Environmental Protection Agency, or in the Affordable Care Act, or in IRS dumbassery, or even in whatever it is that the president plans to say about guns in the next week or so. Anyone who argues that actual tyranny exists is a dangerous charlatan who should be mocked from the public square. Anyone who argues that there is out of political ambition, or for their own personal profit, should be shunned by decent people until they regain whatever moral compass they once had…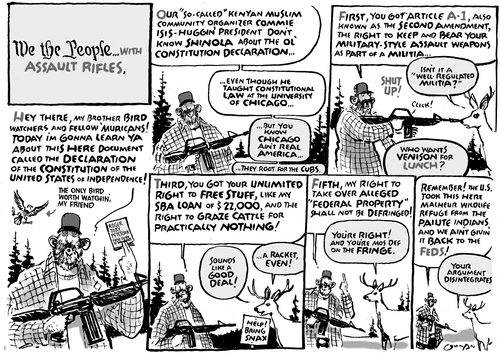 But still… Albert Burneko, in the Concourse, on "Those Jamokes in Oregon":
The American political lexicon has an appropriate word for the armed men conspicuously loitering in part of Oregon's Malheur National Wildlife Refuge instead of going home. It is not terrorist or militia or occupation or revolution or movement or front or army or resistance. The word is jamoke. "Get a load of these sad jamokes!" is the thing you say about them…

Imagine the grade of sad, stunted halfwit who decks himself out in paramilitary regalia and lethal weaponry to stage a sit-in at what is for all intents and purposes a remote wildlife park's visitor's center. Okay, men, when I kick in the door, you three move on the 74-year-old v0lunteer who shows the birdwatching slideshow to elementary-school field trip groups; if she makes a move, be ready to take her down with force. The rest of us will establish a defensive position behind the cardboard beaver. If bigger goobers than these exist on our planet, you identify them by the bruises from where they poked themselves in the eye while trying to pick their noses…

Here is the thing. These men are not frightening. They are jamokes. They are exactly jamokes. Their guns, on the other hand, are very frightening—for precisely and entirely the same reason and to absolutely the same degree that those same guns would be frightening in the hands of toddlers. Not because the people holding those guns are serious, but because the people holding those guns are not serious.

This, my good buddies, is the entire American pro-gun argument made (embarrassing, oh my God so fucking embarrassing) flesh. A big scary gun lends a degree of real power even to the variety of sad, corny-ass loser who invades and occupies what is essentially a fancy birdhouse in the name of ending tyranny. That is the whole reason to have a big scary gun. Not as a safeguard against home invaders or the totalitarian state, but as a safeguard against a clear-eyed reckoning with plain reality. A gun is—or at least these jamokes hope it is—a Get Out Of Getting Laughed At Free card. When you call these horse's asses "terrorists," you are not only dignifying their ridiculous, impotent actions, you are doing them the biggest favor for which they can hope…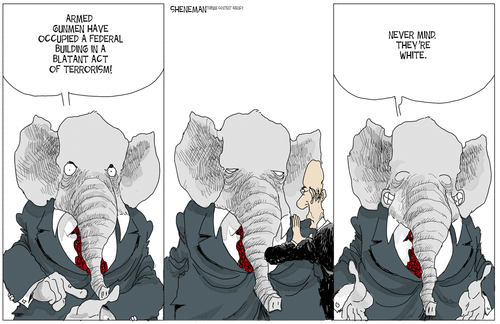 Matt Taibbi, on "The Dumb and the Restless":
…The Bundy militiamen are like a Black September version of an Iron John forest retreat: a bunch of weepy middle-aged guys who dressed up in crisply pressed outdoorswear and took over a bird sanctuary so they could play outlaw for a few days while they "worked on themselves.".

They gathered around a bonfire (there really was a bonfire) and presumably engaged in Robert Bly-style mythopoetic healing, getting back to their manly roots by stroking their rifles, wearing camo undies, and complaining about all the wrongs done to them by women/the federal government/wild birds/whoever…

There's no doubt that these people are dangerous, but their ridiculousness is a huge part of who they are. Incidentally, this is true of groups like the actual al-Qaeda, too, led as they are by men in beards and Rick-Perry-style "smart glasses" who play at being religious scholars and intellectuals when in fact they are the kind of people who are afraid of cartoons and lie awake at night wondering if it's permissible to play chess with a menstruating woman. Just because a person is dangerous does not mean he's not also absurd.

The Bundy militiamen are an extreme example of a type that's become common in America. Like the Tea Partiers, they seem to not only believe that they're the only people in history who've ever paid taxes, but that they're the only people who were ever sad about it. What they call tyranny on the part of the federal government just means putting up with the same irritating bills and regulations and other crap that we all put up with, only the rest of us don't whine about it in the front seats of our cars while posing in front of tripods.

Again, these people may be dangerous, but their boundless self-pity, their outrageous sense of entitlement and their slapstick incompetence as rebels and terrorists are absolutely ridiculous. Sure, it may not help, but how can we not laugh?
Turns out a dozen pocket constitution wavers in a bird sanctuary are NOT endlessly fascinating.

— Bob Schooley (@Rschooley) January 7, 2016
But there are casualties, of a sort. According to the Oregonian, yesterday:
BURNS — Violence broke out at the Bundy compound Wednesday night between its militant occupants and members of an outside group whose leader says he wants to get women and children out of the compound.

Lewis Arthur, who leads a group called Veterans on Patrol and calls himself an anti-violence patriot, arrived Wednesday afternoon with a small crew.

By Wednesday night, one of Arthur's three-person crew was in the hospital, his eye blackened from a punch to the face…

Arthur and his group erected a military-style camo tent across the street from the compound, symbolizing sympathy with the militants' complaints against the federal government and dissent to the group's standoff.

Payne made it clear he had no plans to leave. At that point, Arthur said, his goal became removing women and children from the compound. It's not clear who is actually staying in the occupied refuge headquarters — media estimates put the number at about 20 protesters, but all who have appeared publicly have been adults.

Arther and his group entered the compound Wednesday night, hoping to convince a female acquaintance to abandon the standoff.

That's when the trouble started…

By Thursday morning, the counter-protesters were back at their post across the street. Animosity from last night's fight remained intense. Conservative radio host Pete Santilli, arguing the outside group "escalated" things, traded harsh words with Arthur…
Whoa, their very own shock jock "embed", come all the way from Cincinnati! As the old proverb goes: Manure draws flies.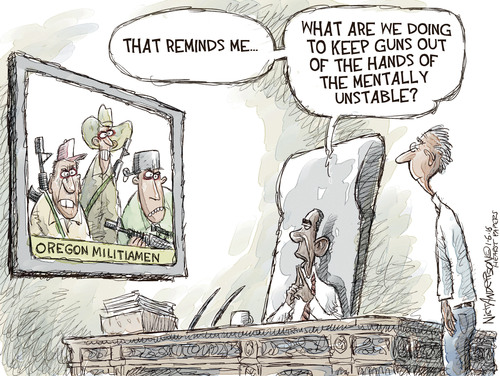 .