ETA:  What follows takes on extra resonance with the news reported in the post below.
************
Just when you thought the ammosexuals couldn't get any creepier, they do:
The world of make-believe can be a scary place, but never fear: Thanks to a series of reimagined fairy tales published online by the National Rifle Association, classic characters like Hansel and Gretel are now packing heat…

In the N.R.A. version, Little Red Riding Hood set off through the forest to visit her grandmother, just like in the original. But the Big Bad Wolf did not scare her this time, because she "felt the reassuring weight of the rifle on her shoulder."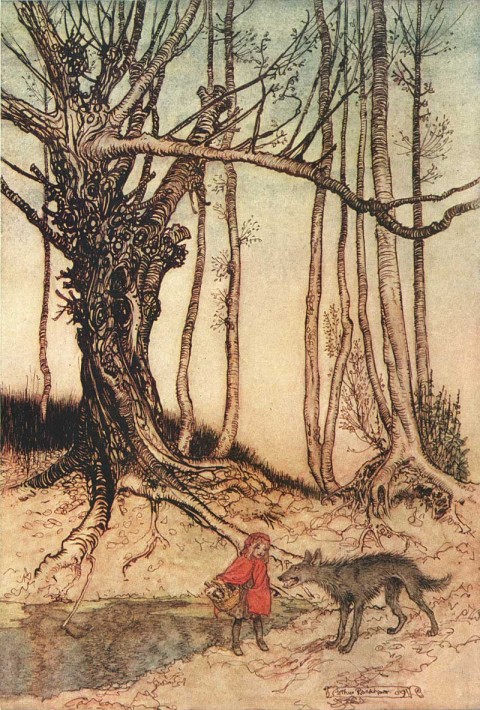 Grandma's got a shotgun, Hansel and Gretal round up an armed posse to take care of the witch and….
The NRA says this is all about making fairy tales less scary, and teaching gun safety. (After all, H & G go tell grownups when they spot danger!)  Others see a different motive:
"The intent here is to create future customers" for the gun industry, said Mr. Everitt. "I think it is wholly a marketing thing."
Sounds right to me.  As we await the next tale in the series — "The Three Little Pigs, with guns…" — I reflect:  nothing says childhood like 125 grains of hot lead traveling at 1700 feet/second.
I f**king hate these folks.
*Not quite as honest Abe put it, but close.
Arthur Rackham, Little Red Riding Hood, 1909