Via Marcotte at Salon, here's some polling data that contradicts the notion that all enthusiasm in the Democratic primary is on Sanders' side and that Clinton supporters are performing the electoral equivalent of dutifully eating their vegetables: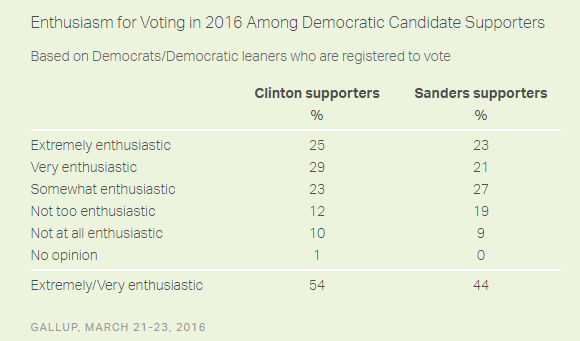 Sanders is no slouch in the voter enthusiasm rankings either, though according to the poll, Trump's Orc Army puts both Clinton and Sanders in the shade with 37% "extremely enthusiastic" and 28% "very enthusiastic."
Kasich is the boiled cauliflower candidate, with 51% his supporters describing themselves as "not too enthusiastic" or "not at all enthusiastic." I wish there were an "actively repelled" category to see how Cruz would have scored — maybe next time.
Anyway, the poll results probably don't signify much in terms of the outcome, but it's interesting in the context of the coverage. If you find yourself just a teensy bit excited about the prospect of voting for that tired old retread Hillary, apparently you're not alone, the yawns from the Beltway boys notwithstanding.