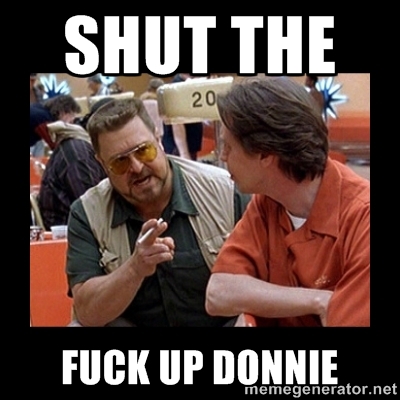 I really did spend much of this campaign pretty neutral- if anything, I thought I was tougher on the Clinton team most of it than the Sanders campaign. I liked the Sanders camps enthusiasm and I like his positions on many things (who doesn't!), but eventually I decided it just wasn't realistic and that we would be better off with Clinton. Having said that, we are now to the point that I am just fed up TO HERE (raises good arm over head).
On top of what Anne Laurie mentioned earlier, with all the dipshits whining that as Independents they can't vote in the closed Democratic primary and how closed primaries are a scourge against democracy, etc., ad nauseum, this (via C&L) is the kind of shit that wants me to put the collective campaign in a box, weight it down, and throw it in the East River:
The Bernie Sanders campaign has sent a letter of complaint to the DNC on the eve of the New York primary about Hillary Clinton's joint fundraising committee — an FEC approved committee to raise money for the DNC, the Clinton campaign, and downticket races.

The complaint comes just one day after a protest at George and Amal Clooney's home in California which ended with Bernie Sanders' supporters throwing one-dollar bills at Hillary Clinton's motorcade as she left. Clinton was attending a fundraiser for the Hillary Victory Fund, which is her joint fundraising committee.

The Sanders campaign "is particularly concerned that these extremely large-dollar individual contributions have been used by the Hillary Victory Fund to pay for more than $7.8 million in direct mail efforts and over $8.6 million in online advertising." They further allege that this improperly benefits the Clinton campaign "by generating low-dollar contributions that flow only to HFA [Hillary for America] rather than to the DNC or any of the participating state party committees." (Full text – PDF)

In a press call earlier today, Clinton's campaign manager Robby Mook pointed out that the Hillary Victory Fund is structured the same way as the Bernie Victory Fund, with the only difference being that he has chosen not to raise funds for his. They further pointed out that the agreement between downticket candidates, the Clinton campaign, and the DNC is permissible under FEC regulations and that all allocations of expenses are being made in accordance with the rules set forth by the FEC.
A good democrat knows to make sure they are registered and registered for the right party. Even fledgling Democrats who have been registered their entire lives as Republicans and switch over can figure this out:
I had intended to register independent, but when I got there to do it, I had a moment of clarity- there seemed to be no point leaving the Republican party in protest and joining the unwashed masses. If I really was going to protest, it made no sense to not commit to the opposition party. Besides, as a Republican all these years, I never had any problem voting for libertarians, Democrats, etc., I don't see why being a Democrat will change anything. And, the 2008 election really is the most important election of my lifetime- the basic foundation of our country has been under assault for a while, now, and I want to vote in the Democratic primary as a Democrat, not as someone with no party affiliation. I want to send a message, and as small as this gesture (which should appropriately be interpreted as a middle finger to the GOP and not as a sloppy wet kiss to Nancy Pelosi) is, I want it to mean as much as possible. There is now one less Republican in WV, and one more Democrat.
That guy quoted above is not the sharpest tack and sometimes a little slow on the uptake, and at the time was a full fledged drunk. But somehow that whiskey soaked moran managed to figure shit out.
A good democrat raises money for downticket races. A good democrat doesn't spend the entire primary creating faux controversies to weaken the party and party structure. A good democrat doesn't run around tellking half the states they don't matter or count. A good democrat doesn't do what the fucking Sanders campaign has done the last couple of months.
It took me a while, but I am now to the point with the Sanders campaign and their bullshit where I was with the Clinton campaign in 2008. So you got that going for you, Berners.
*** Update ***
Predictably, state parties are fucking pissed:
Noteworthy: the Ohio Democratic Party is defending Team Clinton after Team Sanders criticized its $ arrangement pic.twitter.com/Dq0MMnkrMb

— Gabriel Debenedetti (@gdebenedetti) April 18, 2016
Here's the Virginia Democratic party:
"The Democratic Party of Virginia relies on a strong Democratic National Committee, which is made possible through joint fundraising committees like the Hillary Victory Fund. There's no path to the White House without Virginia and in order to keep it blue, we rely on strong partnerships to bolster our efforts."
Seriously, shut the fuck up Bernie.