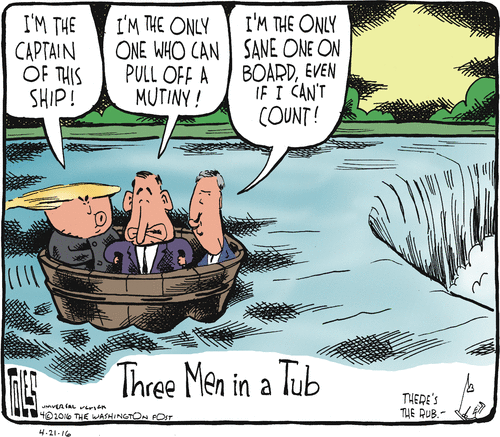 Somewhere Paul Manafort is calling all the dictators and torturers in his Rolodex to see if they will take him back

— Dan Pfeiffer (@danpfeiffer) April 27, 2016
And there's so much of it, right now. Politico reports that "Trump rejects new adviser's push to make him 'presidential'":
… Trump became upset late last week when he learned from media reports that Manafort privately told Republican leaders that the billionaire reality TV star was "projecting an image" for voters and would begin toning down his rhetoric, according to the sources. They said that Trump also expressed concern about Manafort bringing several former lobbying colleagues into the campaign, as first reported by POLITICO.

Now Trump is taking steps to return some authority to Manafort's chief internal rival, campaign manager Corey Lewandowski.

Neither Lewandowski nor Manafort responded to requests for comment, though Manafort on Sunday during an interview on Fox News blamed Lewandowski's regime for shortcomings in the campaign's delegate wrangling operation. Lewandowski's allies responded by privately questioning whether Manafort has done anything to improve the situation. They grumble that Manafort has spent a disproportionate amount of time on television — just as Trump himself has been avoiding the Sunday morning talk show circuit at Manafort's urging.

"I think it pisses him off that he was getting free television by going on the shows and now Paul Manafort is out there resurrecting his career," said one campaign operative. Citing Manafort's advocacy within the campaign for an expensive advertising push in upcoming states, the operative said Trump is "saying I can get on every show I want for free and you're telling me not to do that and that I should pay for my advertising? That doesn't pass the smell test to me."

The mounting tension comes as Trump is struggling to incorporate traditional political tactics with the cult-of-personality approach that helped him climb from long shot to front-runner for the GOP nomination. In some ways, Manafort and Lewandowski represent the ego and the id of that balance, with the hardscrabble outsider Lewandowski earning Trump's trust early, only to be challenged by the more polished insider brought in late last month to provide help as Trump's campaign struggled to secure loyal convention delegates…
************
Anyone wants to take bets on when the Lewandowski/Manafort spat moves beyond the metaphorical pissing matches to an actual fist fight? And has Roger Stone started the betting book already?
Okay, National Enquirer Literally Linking Ted Cruz to JFK Assassination Now https://t.co/wDpWPf7JjE via @mediaite

— Phillips Pasha (@PhillipsPasha) April 26, 2016
Roger Stone, Trump's freelance dirty trickster, is JFK assassination conspiracist with National Enquirer ties. https://t.co/C6XaeuXUvg

— Jeet Heer (@HeerJeet) April 26, 2016