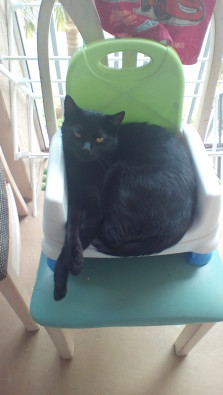 From commentor Manyakitty, a link to her friend's GiveForward page:
On Friday, April 29th, my friend bought a hydrangea from Trader Joe. There was no warning about potential toxicity to children or pets. Her 2.5 year old cat, Loki, nibbled the edge of a leaf that night. Loki is now struggling to survive. He is suffering from suspected cyanide family poisoning (as Cyanogenic glycoside is found in hydrangeas), and grayanotoxin poisoning (a neurotoxin usually found in rhododendrons)…

"The doctors believe the hydrangea was either cross-bred or cross-pollinated with a plant in the rhododendron family, and that is why Loki is struggling to survive. They did not expect him to survive beyond 24 hours. It has been almost 5 days now, and Loki is still fighting hard for his life. We are doing everything we can to support him. He is 100% blind and deaf from the poisons. He has a significantly diminished sense of smell. His balance is compromised, and he has a drop paw and a limp leg. His heart rate shot up to 220bpm, but it's back down to a normal 160 now.

We have taken Loki to the doctor three times already for blood work, testing, subcutaneous fluids, and activated charcoal treatments. We are taking him back to the vet tomorrow, and several more times to check his kidney function and hopefully keep him out of renal failure.

Initially, Loki could not eat or drink on his own. Now he can! Initially, Loki was dying. He is now stable! We have a lot of treatments ahead of us to monitor his condition. Also, our local vets are unsure if his neurological deficits are permanent, so we are taking Loki to see a feline neurologist in Fort Pierce. Her examination will determine our next steps, but we hope she can suggest therapies to accelerate his recovery.

Our hearts are breaking for Loki. It is so hard to see him like this, yet his spirit continues to impress us. We are hopeful that with the best care possible, and time, our little kitty will rebound. He has an indomitable spirit. He is fighting. And we are all rallying around our baby. Go, Loki, Go!! We love you so much!"
Again, the link is here if you need more information.