Kentucky submitted their Medicaid Expansion waiver today. and it is a doozy.  There are a couple of interesting and potentially useful nuggets ( I liked the wrap-around policies so that a family that qualifies for multiple categories of aid stay on one plan for simplicity's sake), a couple of things that I could live with but don't like and then work requirements tied to health insurance which CMS has always shot down.
Below is a pair of screen shots from the cost justification section of the waiver that I found utterly fascinating.  The top shot is what the state projects will be the enrollment and cost per person per month (PMPM) growth without the waiver.  The  bottom is what the state projects would happen to enrollment and costs with the waiver.  The 1115 waiver is supposed to be at least budget neutral and coverage neutral.
TLDR: Fewer people enrolled at higher costs.
Let's look at the data below the fold: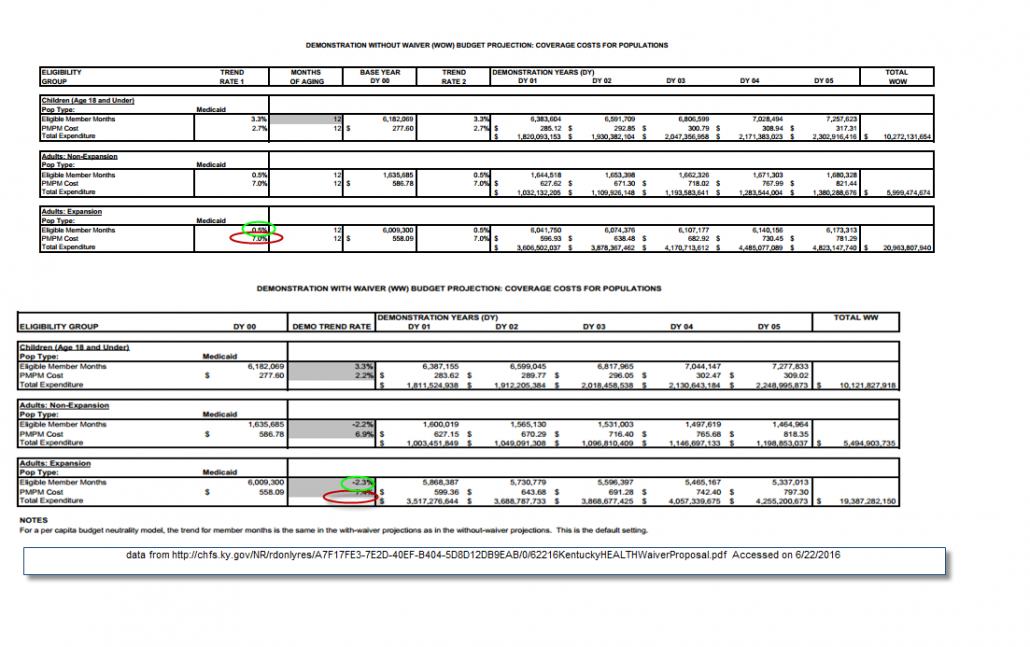 The section on kids who qualified for Legacy Medicaid is fairly boring. They are projecting the waiver will minimally touch them as kids are exempt from most of the requirements. This makes sense. The Legacy Medicaid analysis for eligible adults is slightly more interesting to me. Enrollment trends go from a .5% gain per year to a drop of 2.2% per year while per member per month costs barely move by a tenth of a point in trend.
Looking at the adults eligible for Medicaid expansion is where the waiver gets screwy.  Membership growth trend goes from a gain of .5% per year to a decline of 2.3% per year.  Those are the numbers circled in green.  Even more interestingly, the numbers circled in red are the PMPM trend assumptions.  With no waiver, they are projected to grow at 7% per year.  With the waiver, they are projected to grow by 7.4% per year.
Kentucky projects that this waiver would reduce total Medicaid expenditures by roughly 2%.  Their own projections show no change in behavior of Legacy eligible kids.  Their own projections show minimal change in cost trend for Legacy eligible adults.  Their projections show a significant uptick in cost trend for Expansion adults.  Their cost side is either functionally flat or up.
The only way money is being saved as per person costs are either the same or higher is by covering fewer people.  The way that Kentucky will cover fewer people is by putting up half a dozen barriers to enrollment.  Premiums, health savings accounts, limited open re-enrollment periods, benefit lock-outs and job training requirements all are barriers.  Individually any of those barriers might only knock a few people out from the pool, but they are a bewildering array of complexity when put together.  The goal of this type of waiver design is to reduce costs by making more people go without insurance.