Just heard a clip from what sounds like a strong speech by Hillary Clinton at the A.M.E. Church centennial in Philadelphia tonight, in which she spoke of the explicit bias evident in police-involved killings of Black Americans; of the brutality of the events in Dallas, made yet more bitter by the fact that the Dallas police department's engagement with the kind of policing we seek; and the need to get guns under control.
All good, though I'm sure that, as Clinton said, the fact that she juxtaposed the fact that Black lives matter with a massacre of police officers and the third-rail issue of gun control will enrage many.
So what am I kvetching about?
A phrasing that she used that is common, wrong, and both an expression of and a part of the problem: her use of the dichotomy "police and civilians."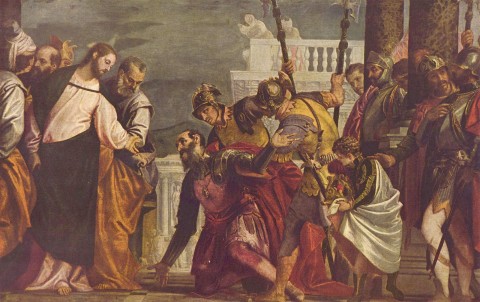 Police are civilians.  They are the civil power.  They are not soldiers.  They are subject to the rule of law adjudicated within civilian courts — not military justice.  They are tasked with special powers and thus burdened with specific responsibilities and duties — but they're civilians.  They answer to mayors and (civilian) police commissioners and city councils and ultimately the public.
It's an expression of the dangerous militarization of the police to distinguish them from "civilians" — those who are in fact citizens, fellow citizens, the commonwealth.
Say "police and the community."  Say "police and the public." Don't say them and us, even when that's too often what's felt.  We can't get from there to here if we encumber cops and everyone else in language that preserves the wall between those of our fellow citizens who carry badges and guns and those whom they serve.
/Rant over.
Image:  Paulo Veronese Christ and the Centurion, mid 16th century.