ETA: Once again, proof that I belong to no organized political blog; I'm Juicer.  I swear Betty's post wasn't there when I started this, and as usual, I didn't stop to look before I hit publish.  I think I'll leave this  up as (a) an object lesson in attention-must-be-paid and (b) because you can never have too much thread to shower our opponents with disdain.
Apologies to all offended.
So, the Incompressible Jizztrumpet reboot lasted…well, I'm not saying you need femtosecond-accuracy here, but not long, brothers and sisters. Not long.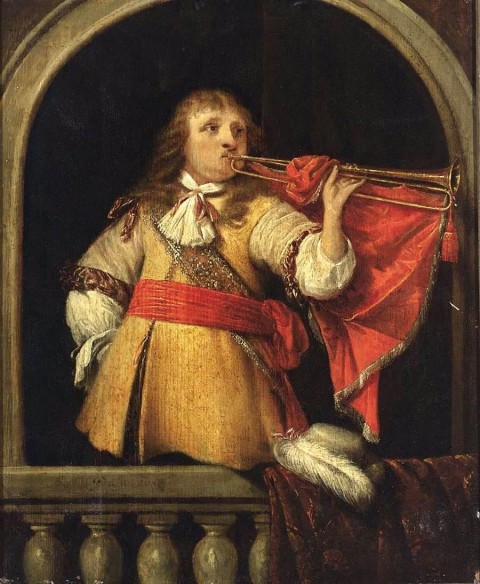 Yesterday it's all, "Hey — his economic plan is warmed over ZEGS-gruel, seasoned with some pants on fire, but at least there was no visible froth on his grubby mien."
Today, having struggled free of the Manafort manacles strapping him to the teleprompter, the Hamster Heedit Bampot went away and boiled his nappy:
"If she gets to pick her judges," Trump said, "nothing you can do, folks. Although the Second Amendment people, maybe there is."
To put that into the plainest of terms:  the nominee of one of the two major parties  in the United States just said that if his opponent were to win, then she could — and by context, should — face armed rebellion. (ETA: per both comments below and Betty C. before, this could as easily be read as a call for assassination.)
That, my friends, is John Calhoun's dumber younger brother, up on his hind legs, urging his supporters to follow General Pickett's division up the ridge, (ETA: or, perhaps, to attempt a little John Wilkes Booth action) in pursuit of the same end as the party of treason sought 150 years ago: the destruction of the American Republic.
It would make me yet more furious, except that it does appear that Trump knows, or embodies his Karl Marx:  first time tragedy, second time (tragic) farce.
In any event, we now have yet further proof of the obvious:  there is no "presidential" Trump.  There is only the same Cheeto-faced, ferret-wearing shitgibbon we've come to know and loathe.
Image:  Anthony Palamades, An Officer Blowing a Trumpet, first half of the seventeenth century.