Here's the first paragraph from the top story on The Washington Post right now.
A man using an AR-15-style weapon shot and killed five people Friday, including an 8-year-old — an angry response to the neighbors' request that he stop shooting in his yard while their baby was trying to sleep, Texas authorities said Saturday. The gunman then fled, prompting an ongoing manhunt.
What's wrong with it?
I'll tell you.  The reporter actually wrote that a mass murder is "an angry response."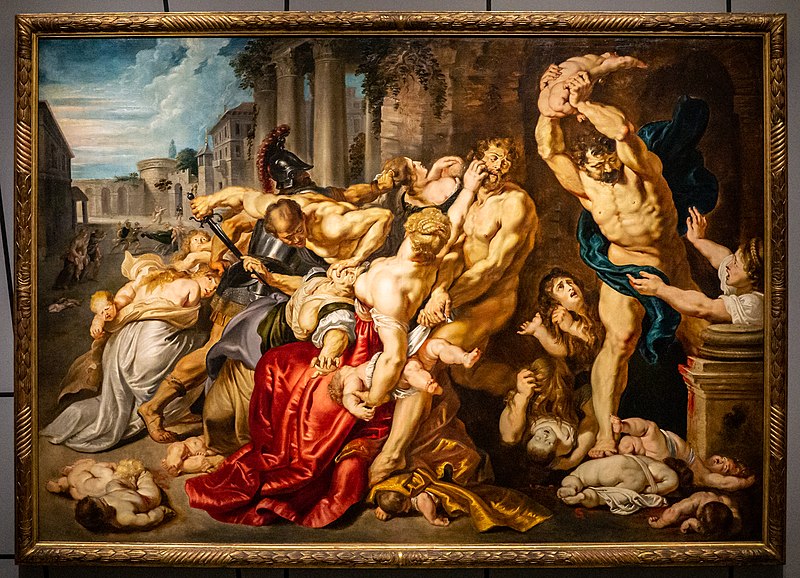 An angry response would have been if the gunman had shouted "Fuck you!" back at his neighbors.  Slaughtering a kid and four grownups is not angry. It's many things–deranged, grotesque, evil, and the work not only of the killer himself, but every malign asshole in our recent history that has chosen to defend American gun madness against all comers.  So yeah–that means just about every elected Republican (and a very few Democrats), the Fox News apparatchiks and all the usual suspects.  They are accessories before and after the fact, never (usually) pulling the trigger, but ensuring that someone will.
But I digress.  "Angry"!?  What the fuck is that.
I'm out of words. Over to you. Open thread.
Image: Peter Paul Rubens, Kindermord, after 1611.*
*PS: it depressed the crap out of me that there's no search time involved in pulling up a depiction of this scene for any post I do on guns. You'd think we'd get the point of the Biblical passage involved by now.  Hah! Sometimes I crack myself up.
PPS: Also too–Texas. It's time to recognize that GOP led states have installed a state religion. Not Christianity, though they're trying to impose a twisted version of same on the rest of us.  No. What's already in place can only be described as Moloch worship.
What's Wrong With This Lede? What's Wrong With These People?Post + Comments (186)