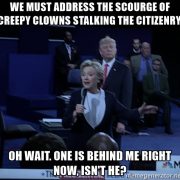 Thought experiment: A hypothetical demagogue — let's call him "Candidate T" — has trailed in polling averages for pretty much the entire election season. He develops a catastrophic PR problem just a month out from election day when a video surfaces that shows Candidate T skull-fucking a kitten.
Candidate T assembles his brain trust in his comically clichéd super-villain lair, and they decide they must change the subject from the kitten skull-fucking at all costs. So they send Candidate T out at a high-stakes event watched by tens of millions of voters, and he skull-fucks a puppy on stage.
After the event concludes, all anyone talks about is the puppy skull-fucking, so mission accomplished, right? Nope — not if the goal is to get people to stop talking about the kitten AND win the election. The first part of that objective has been temporarily met, but now Candidate T has disgusted even more voters.
I suspect PussyGate isn't over, not by a long shot. Soon, women in addition to Miss Utah will speak up about being forced to endure Trump's unwanted, Tic Tac-scented advances. Other contestants besides Miss New Hampshire will describe what it was like to be ogled by Trump in the dressing room at pageants.
What we saw last night was desperate flailing by a candidate who is going to lose bigly. That he attempted to turn a presidential debate into a Jerry Springer spectacle is a measure of his desperation. He lied and lurked and smirked and stalked, and he threw the contents of Ken Starr's 1990s recycling bin at his opponent, who remained cool. It didn't work 20 years ago. It won't work now.
I also suspect I'm not the only woman who is angry and disgusted this morning. I'm pissed off that a malignant, gross predator like Trump has jack-hammered through the gutter to drag our already dysfunctional politics into the fucking sewer. I find it revolting that an accomplished woman like Hillary Clinton is required to be in the same ZIP code with a tawdry creep like Donald Trump, let alone in his physical proximity.
But one thing I'm NOT this morning is worried. We can't let up. We should use this opportunity to demoralize and heap derision on all the gutless elected Republican cowards who won't stand up to Trump, and we should lift up their opponents in any way we can. We should continue to donate, phone-bank, canvass, etc.
But she's got this. And I so look forward to watching that grotesque buffoon Trump get an indelible "LOSER" stamp on his forehead, family name and brand. It will be exquisite to watch the sanctimonious hypocrites, bigots and bagmen in the Republican Party brawl over who is responsible.
Eyes on the prize, pedal to the metal, and a correction: WE'VE got this.
ETA: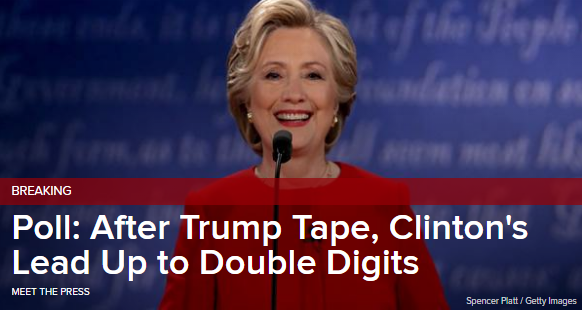 Ha!