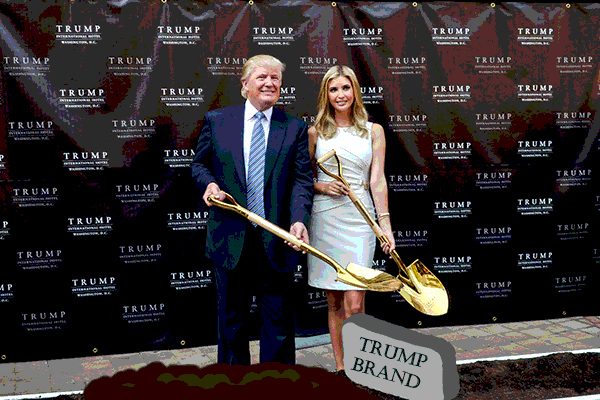 Some folks theorize that Donald Trump originally conceived his candidacy as a brand-building exercise. There's some evidence for that, including the fact that he often uses media coverage of his campaign for advertising purposes, as when he turned his "birther renunciation" presser into an infomercial for his DC hotel.
But if that's the case, Trump has proved as inept at spinning political coverage into commercial gain as he was at hawking steaks, running an airline and operating casinos. New York Mag:
Donald Trump's D.C. Hotel Shows His Brand Is Sinking Along With His Poll Numbers

Trump's biggest disaster of the campaign — the revelations of a lewd tape in which he boasted about sexually accosting women — has led critics to throw more shade on his businesses. Fellow celebrity-billionaire Mark Cuban tweeted this on Friday night:

Every single @realDonaldTrump hotel and golf course is toast. Done. Over. Bernie Madoff now has a better brand.
— Mark Cuban (@mcuban) October 8, 2016

He might not be wrong. Take Trump's latest, most lavish venture: the Trump International Hotel in Washington, D.C., which has become a focal point for grievances against the unconventional Republican presidential candidate…

For a five-star hotel in downtown Washington to have vacancies during major IMF meetings is a little like having empty rooms when the Super Bowl is in town. "The reason why there were vacancies is the political atmosphere. People don't want to go there for fear that they would be asked, 'Why are you staying here?'" says Ada Pena, a travel agent with ABA Travel in Washington, D.C.

The explosive tape of Trump boasting of sexually assaulting women will only "aggravate that feeling, especially when there are other options," she says.

The hotel not only has a prime location and swank interiors, it boasts a branded Ivanka Trump spa, and tourist attractions related the building's old function as a post office. But none of that seems to be attracting guests.

"You don't see taxis stopping by like they do at the Marriott or the Willard, which are nearby," says Pena, who works in the area. "It's dark. There is no feeling of hospitality." Locals aren't eating at the restaurant for lunch either, she says.

"It's a shame that it is called Trump because it's a beautiful property. But overall, his brand is hurting," the travel agent adds.
This is a real problem for Trump since his entire business model centers on licensing the Trump name to convey a Liberace-themed notion of conspicuous consumption. Unfortunately for the Trump brand, overt white supremacists are decidedly downscale and thus unable to afford luxury items.
Maybe Ivanka can cut a deal with Walmart for a discount shoes and accessories line, and Donald can peddle clip-on ties and wife-beater undershirts. Made in CHI-nuh, of course.