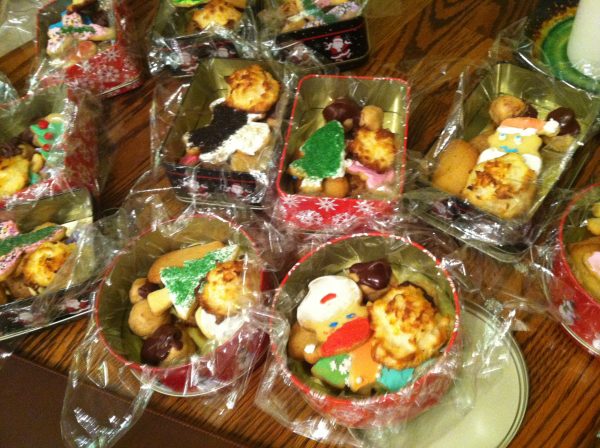 It's time for our annual Drunken Aunties Cookie Bake Off, this year with extra family drama into which I refuse to be drawn. Expect drunk tweets! On the menu:
Butter cookie cutouts with royal icing
Mocha chip espresso cookies
Buckeyes
Peanut butter cup cookies
Raspberry jam thumbprints
Coconut macaroons
Snickerdoodles
Christ, do I dread making buckeyes with little kids! Do you know what buckeyes are? Basically, a mixture of peanut butter and confectioners' sugar rolled into balls and dipped in chocolate. Sounds perfect for a kid project, right?
Nope. Last year, I turned my back for just a few minutes to monitor the baking, and the little shits made buckeyes ranging in size from marbles (as I'd instructed) to billiard balls.
I don't expect precision from kids, but damn. I had to assemble an ad hoc toothpick crane to lower the giant buckeyes in the chocolate pan and roll them around without them falling apart. Then I had to make wax paper baffles in the tins containing giant buckeyes so they wouldn't roll around and crush gingerbread men and Santas like that boulder in the Temple of Doom. Pain in the ass.
Anyhoo, long night ahead. Open thread!