Yeah, we're becoming a pets, wildlife and home improvement blog. Here's a gorgeous female merganser flawlessly pulling off a 'do most humans would do well to avoid: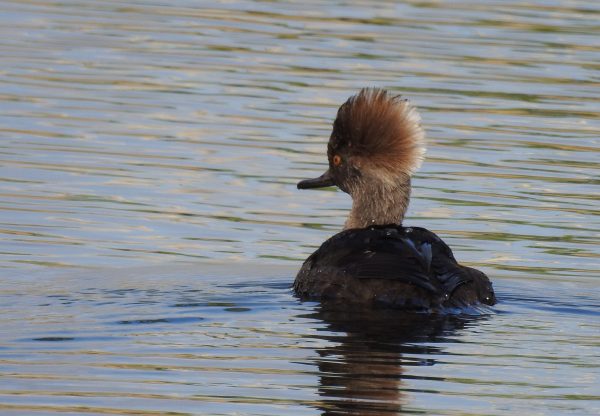 There's a lot of shit happening in the world that would normally make for blog fodder:
1) Trump's pissing contest with the planet's other nuclear-armed narcissist with absurd hair.
2) The fact that public outrage caused the GOP House to back off its bid to gut the Office of Congressional Ethics — and the shitty Beltway media is giving Trump credit for it.
3) Megyn Kelly's migration from Fox to NBC, which isn't a good sign for those of us who'd rather have all our New Black Panther Party / Black Santa hysterics at a single network.
4) The Keith Ellison vs. Tom Perez contest for the DNC chairmanship has become a BernieBro vs. HillBot proxy war. (Yay! I missed those!)
5) Bill and Hillary Clinton will attend the human shit stain's inauguration, presumably after being assured that the Trumpenproletariat mob won't rise up and jail them…or worse.
I could go on. But honestly, I don't have a coherent thought about any of these topics unless "BLAAAARRRGH!!!" or "Fuuuuuuck!!!" count. So, birds it is. Open thread!
PS: Bald eagle nest cam live stream here — feeding in progress!