While a number of people, both here and other places, have written moving thoughts on Dr. Martin Luther King, Jr. today, I wanted to highlight something we are aware of, but don't think of enough: the anger that his actions generated. It was almost Newtonian – each action generated an equal and opposite reaction.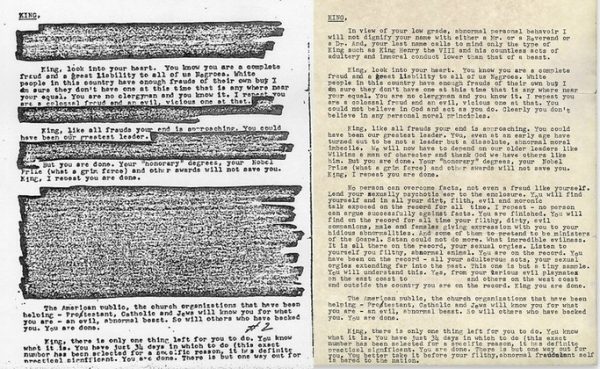 (Figure 1: Letter from J. Edgar Hoover, written anonymously, to MLK, Jr.)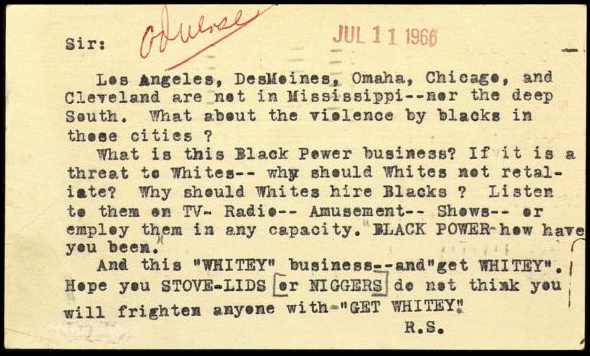 (Figure 2: Hate mail sent to MLK, Jr.)
(Figure 3: Hate mail sent to MLK, Jr.)
These are just a sample. And it is important to remember the letter in Figure 1, believed to have been sent by J. Edgar Hoover, was an attempt to drive Dr. King to suicide. Dr. King's movement, which eventually led to long overdue, long denied progress in the US wasn't just opposed vehemently at the time, but led to immediate attempts to push it back. His efforts, and those that worked with him and supported him, and the progress they made is just one example of the fitful progress that is made in the US. Every time, from the first founding and the Articles of Confederation to the second founding and the Constitution and Bill of Rights to the post Civil War amendments to the New Deal to the Civil Rights era and the Great Society and to the achievements of the last 8 years, progress has been met with this same Newtonian response. Anger and obstruction while the progress is occurring and an immediate attempt, sometimes successful, sometimes not, to roll it back.
I know a lot of the readers and commenters here are on edge. Once again we are in unsettled times, this has begun to dawn on even a lot of people that voted for the President-elect as his inauguration approaches. And I know many are looking for or thinking about what to do. I can't answer that, but I can say that whatever strategies arise, and there will likely be more than one, it is important to remember that they are often not what they seem. While Dr. King's philosophy of non-violence has been codified and commented on, it is important to remember that part of the reason he arrived at this strategy was concern. Concern for the African Americans that would have to survive the backlash and pushback that would be concurrent with his movement's actions and push for progress on Civil Rights. Even as he was willing to risk his own life, part of his strategic focus and concern was for those who did not have the time, the money, the resources, and the wherewithal to engage in the active portion of his movement. He understood that no progress in the US came without a steep price and an immediate opposite reaction. As a result, his concern for their wellbeing, for what violence could be done to them in an attempt to pressure him to stop, went into his strategic calculus. The movement he led was unable to fully safeguard them, just as, at the end, it was unable to safeguard him.
As the clock ticks and MLK Day turns to the first day of a shortened work week that ends with a Presidential inauguration, remember that progress isn't always made by the spectacular works of elites and notables, but by the slow, steady, and often routine work of everyone. And remember that whatever strategies you choose to follow as the US moves into new and uncharted territory should include Dr. King's strategic calculus.