Full time douche canoe and State Senator Chris McDaniel took to facebook with this bit of idiocy: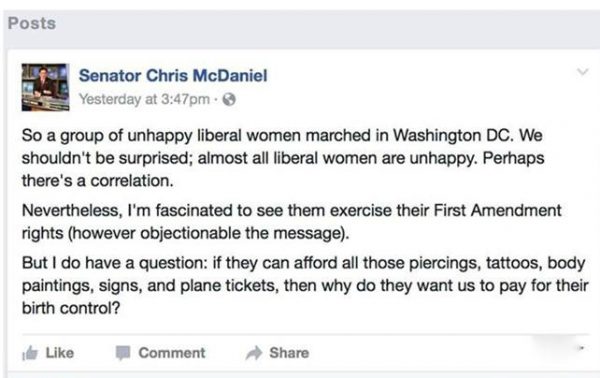 He's proud of that, too! A couple of quick things:
1.) The protests were not about free birth control.
2.) This is when you can tell they are spooked- when all they have is dumbassery to puke up. You've no doubt seen some of the other crap the wingnuts have tried- pictures of trash left behind after the march gasping about dirty liberals, idiots wondering "what did it accomplish," or others barfing up stuff like "what if they had not spent money on tickets and donated it to women's shelters" and on and on. When you see that, what you should recognize is that the protests worked and it unnerved them. They have no response, so rather than confront the issue head on, they'll bicker around the edges.
3.) And I am sure David Anderson aka Richard Mayhew will chime in, but for now, THIS IS NOT HOW INSURANCE WORKS. INSURANCE IS NOT FREE SHIT. INSURANCE IS SOMETHING WE ALL PAY INTO TO HAVE THINGS COVERED.
So when women mention that birth control should be covered by insurance, it's not because they want free shit, it's because they want their health needs treated equally to men's health needs. Additionally, while called "birth control," birth control isn't just for stopping unwanted pregnancies.
So a hearty middle finger to the full time penis impersonator from Mississippi, who not only is an asshole, but a stupid asshole who doesn't even know what health insurance is and how it works.