Some folks argue that if you're focused on who wins the DNC Chair election today, you're doing it wrong. That's a valid point, IMO. There's not that much difference between the candidates' plans. Everyone seems to agree job #1 is rebuilding the party at the state level. The chair post is not really all that important in the scheme of things.
Few people would give a damn about the outcome if the race hadn't morphed into a proxy battle between the Obama/Clinton wing and the Sanders faction. A hint of that was on display at a local party function I recently attended. Two officials somewhat passive-aggressively made their case before an audience of largely new folks who seemed baffled and indifferent. I found their bafflement and indifference encouraging.
Weigel in the WaPo summed it up as follows:
On policy and on their prescriptions for the party, Perez and Ellison have few substantive differences. Ellison has taken pains in public forums to say that Perez was "an ally" in the Obama administration; both men have promised to pour resources into state and territorial Democratic parties, reversing what was seen as a trend toward centralization during the Obama years.

But outside of the DNC, progressive writers and organizers have begun to ring alarms about an Ellison defeat. On Friday morning, a number of groups that had endorsed Ellison, including MoveOn.org, 350 Action and the Progressive Change Campaign Committee, asked DNC members "to be heroes" and back the congressman's campaign.

"If Keith Ellison is DNC Chair, we can hit the ground running — and because of the pre-existing trust that exists between Keith and the grassroots, every state party would have a head start harnessing the power of the resistance," they wrote.
I'll be fine with whoever wins, but the framing in the quote above chaps my ass a little since it implies the Berniecrats own the resistance, which they do not. The resistance belongs to each and every person who got off of his or her ass and took to the streets. And millions of us were middle-aged ladies who voted for Clinton in the primary. Balloon Juice favorite Glenn Greenwald put it in even more offensive terms:
"If the plan to sink Ellison succeeds, the message that will be heard — fairly or not — is that the Democratic Party continues to venerate loyalty to its oligarchical donors above all else."
That's a steaming load of horseshit. Perez is a highly qualified candidate, and for many Democrats, his connection with a successful, incredibly popular two-term Democratic president is a decisive factor. End of fucking story.
On the other side of the coin, Alan Dershowitz, who is a giant, spraying douchenozzle and Fox News regular, says he'll leave the party if Ellison is elected and encourage other "centrist Democrats" to leave with him. In later comments on his favorite network, Dershowitz said the following:
I will not be a member of a party that represents itself through a chairman like Keith Ellison and through policies like that espoused by John Kerry and Barack Obama.
So now it's not just Ellison but Kerry and Obama too? Sounds like the Republican Party really is a better fit for Dershowitz, and I doubt he'll have many "centrist Democrats" trailing him as he exits stage right.
The bottom line for me: I'll support whomever wins. We have an honest-to-Christ unhinged demagogue to oppose. That's what matters.
In the meantime, here's a survey to capture participant consensus on who will win today's vote: UPDATE: Survey results: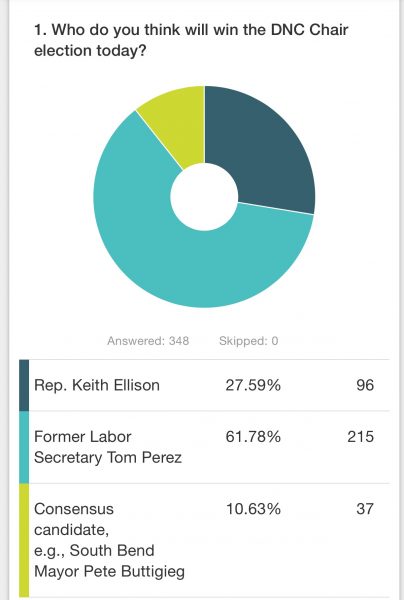 Seems to me it could go either way, but we really can't go wrong, IMO. Both leading candidates have much to offer, and there's a lot of work to be done, so let's get past this, lose the butt-hurt and get to work. Open thread!