I think whether the Obama administration should have revealed the extent and intent of Russian meddling prior to the election is a legit question. But not from this fucking guy: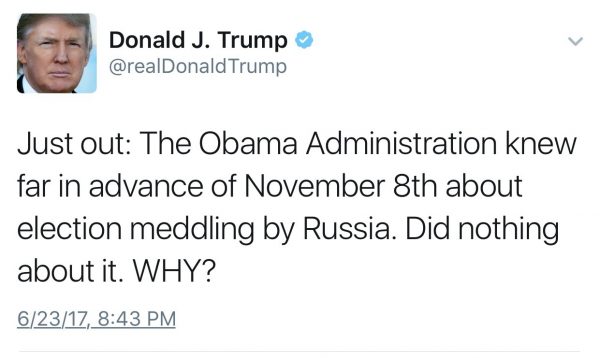 Good Christ. What we have here, fellow citizens, is a creature utterly devoid of any beliefs, strategy or principles — just a dim, gelatinous hairball lashing out at anything that threatens his extra-dainty, super-fragile ego.
And the biggest threat to Trump's self-regard is the very existence of Barack Obama, a man who is effortlessly and obviously Trump's superior in every conceivable way. That drives Trump batshit crazy.
Trump will do anything to ameliorate the threat to his self-esteem — anything to obliterate his better's accomplishments. Wreck the healthcare system. Throw the immigration process into turmoil. Screw his own base. Sow chaos in congress. Toss his subordinates under the bus. Undercut his own messaging strategies.
Nothing is too nonsensical, self-destructive or reckless. Buckle up.