A second guest-post from Ocean Scientist Boussinesque!
Continuing this Balloon-Juice 5-year mission to share new insights and new topics of conversation, Science Officer Boussinesque has returned with a new post (I may or may not have watched Star Trek: Beyond this week, which could be impacting some things…).
You may have heard the words "Ocean Acidification" before, but chances are that unless you've actively researched the topic, you don't know much beyond what the words themselves imply. It's one of the scarier consequences of global climate change, but it gets less mainstream media attention because it's not as easily understood as sea level rise or increasing global mean temperatures. Whether you're a committed environmentalist, a member of an industry that interacts with the ocean, or a member of an industry that needs/wants to cut emissions and energy use, this is important to understand, as well as to act on in any way you are able.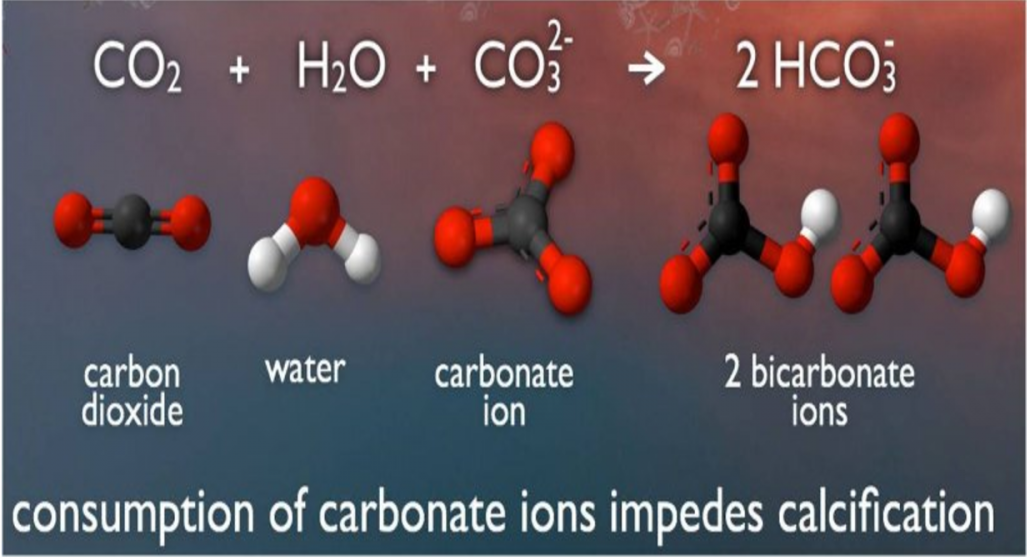 I'll be glossing over a lot of the chemical specifics, but to start by framing the scope of the problem, it's important to realize two things–(1) that the ocean is HUGE (~71% of the planet's surface), and (2) that phytoplankton (microscopic ocean plants) collectively produce about as much oxygen as all of the land-based plants. The ocean is also in chemical equilibrium with the atmosphere (over the time scales we care about), which means that the gasses in the air and those dissolved in the ocean have reached a stable point. If concentration of a gas like CO2 in the atmosphere goes up, more of it will dissolve into the ocean to restore that balance. Because of fun fact (1), it takes a huge amount of a gas being dissolved into the oceans to change the concentration noticeably. In practice, this means that the ocean "buffers" changes in the chemical composition of the atmosphere. The flip side of this is that, when the concentrations of those chemicals in the ocean measurably increase, we already have a very large problem to mitigate.
The big problem here comes with what CO2 does once it's in the ocean; dissolved CO2 is used in photosynthesis by phytoplankton (which is good), and reacts with water to form carbonic acid, which then dissociates into carbonate and hydrogen ions (not so good). Increasing CO2 concentrations drive up the hydrogen ion concentration, which in turn lowers the pH. Lower pH impacts the availability of carbonate negatively, and this is where the biology starts getting involved. A large number of species of phytoplankton (as well as corals, shellfish, and a number of organisms higher in the food chain) use calcium carbonate (CaCO3) to make shells. As carbonate availability goes down, these organisms have a harder time maintaining their shells and skeletons to keep them from dissolving. Imagine trying to build a sandcastle while the tide is coming in, and you'll have an idea of why this is a losing proposition long-term.
The end result of all this is that a number of species at the base of the oceanic food chain stand a risk of going extinct if this continues, leading to a collapse in the ocean food web that effectively turns large swathes of the ocean into an acidic wasteland. The main takeaway is that it'll be hard to predict exactly what the final state may be–there are other species that may thrive in a more acidic ocean, but they probably won't be the ones that we're willing/able to eat, and an overall decrease in ocean productivity ALSO decreases the effectiveness of the ocean's ability to serve as a "sink" for carbon (dead organics sinking into the deep ocean, sedimentation, and some other processes are ways that the ocean removes carbon from circulation for long periods of time), which will accelerate the overall process.
I'd like to note that none of this cares about where the CO2 originally came from–it's a simple chain of chemical reactions, which then interact with the biology of the ocean–and it's an inevitable consequence of atmospheric CO2 levels continuing to rise. This is why it's so important to reduce emissions as much as possible–to go carbon neutral, or carbon negative if at all possible. The ocean touches all of us, economically and environmentally, whether we realize it or not.
There's a lot more to the issue overall than I've been able to cover here, so if you're interested in learning more, I recommend checking out PMEL's website: http://www.pmel.noaa.gov/co2/
There was also an excellent op-ed in the New York Times about this a couple years ago: http://www.nytimes.com/2015/10/16/opinion/our-deadened-carbon-soaked-seas.html?_r=0
(Image credits: pmel.noaa.gov)
I'd also like to poll the jackal pack about the format for these types of posts going forward–would you prefer more frequent, shorter snippets about requested topics, or slightly-less-frequent-but-more-meaty posts in the style of the first one?
I'd like to continue doing the "introduction to oceanography"-style posts, I'm just not sure how regularly I'll be able to belt them out, and wanted to see what would be best to keep the slavering hordes from picking my bones clean.