Twitler was extra-triggered on Twitter this morning, maybe because his angry white boy base is pissed off about the DACA thing. How mad are they? Here's one drama llama ritually burning his MAGA hat — and likely leaving indelible scorch-marks on his mama's glass patio tabletop:
Dear @realdonaldtrump pic.twitter.com/CX0VRMOxJB

— Luis Withrow (@_weese_) September 15, 2017
His mom probably has the MAGAt out there right now chiseling globs of melted Chinese polyester off the table, but message sent! Via Raw Story, burning MAGA hats was a thing yesterday, and some hat torchers even had the good sense to use metal buckets to contain the conflagrations.
So what to do when you're a narcissist demagogue who craves the adulation of racist shitheads the way a crackhead yearns for that next rock? Toss some big red hunks of hate to the base: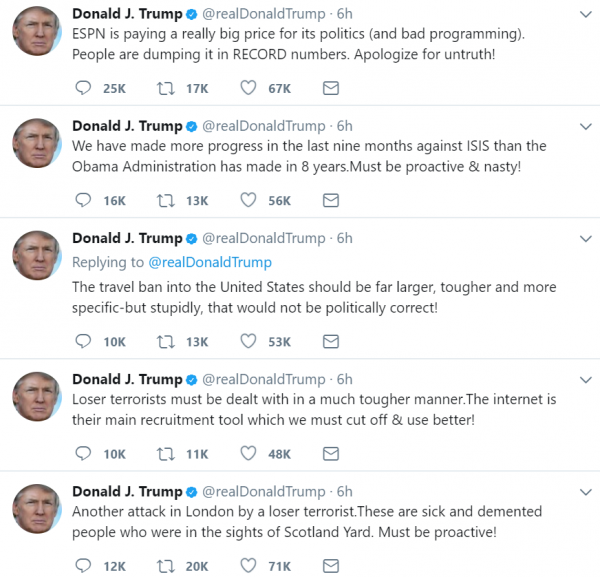 So many lies stuffed into five 140-character falsehood parcels. To partially unpack:
1. ESPN isn't getting dumped, and its analyst, Jemele Hill, told the truth. Trump is a white supremacist who discriminated against minorities in business, publicly advocated lynching the innocent Central Park Five, rose to national prominence on the racist birther crusade, regularly retweets racist garbage from fellow white supremacists and can't unequivocally condemn white supremacy. He's a white supremacist. Period.
2. ISIL hasn't been in existence for eight years, and opposition to it is led by people in the region, not Donald Trump. The people who deserve credit for its defeat are the Iraqis, Kurds, Syrians, etc., who have been fighting and dying there, not Donald Fucking Trump, but it's hardly surprising that, as a white supremacist, he'd attempt to steal credit from the "wogs."
3. No one from a travel ban country has killed an American on U.S. soil in four decades, and security experts say the ban has done fuck-all to make us safer and undermines efforts to combat terrorism by alienating allies.
4. Loser white supremacist terrorists are currently a greater threat to Americans than foreign jihadis, but Trump can't stop opening his big fat yap and minimizing white supremacist terrorist violence. He did it again yesterday.
5. After claiming he didn't want to denounce Nazis prematurely after Charlottesville, Trump threw caution to the wind and weighed in on this morning's terror attack in London, earning a rebuke from Theresa May.
He's probably said other idiotic things since I started typing this. Trump is a daily embarrassment. I try to stay optimistic about our ability to survive this presidency intact, but honestly, I'm not sure we do. The shame alone might prove fatal.