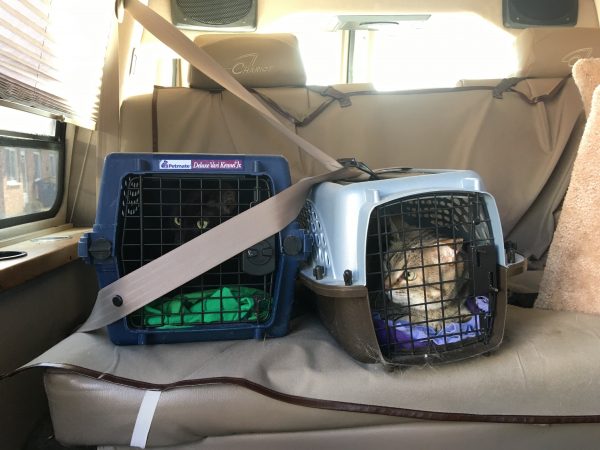 .
Remember Freya and Sweetpea, who needed a new home after their disabled owner died? Just got a great update from Alexi:
I am glad to report that we have a happy ending for Freya and Sweetpea! They have a new home in Ann Arbor with Asuki, who was newly catless.

We used the wheelchair lift van to transport the gigantic cat tower and all their other stuff.

As you can see in the photo, Sweetpea is already using the tower to surveil the Huron River and the critters who live by it.

Freya mostly stayed under the couch, but she did venture out to investigate her litter box's new location. Their new human guardian is semi-retired, so they will get plenty of attention.

Thank you to everyone for networking and brainstorming to help us relocate Sweetpea and Freya. It's a huge relief for my friend, B, because she isn't able to keep her apartment now that her partner has died. Having the cats really complicated the search for affordable housing, and she was worried about future vet bills. Now B knows that the cats at least will have a good home.

P.S. I asked about setting up donations, but B isn't comfortable with that. We didn't end up having any cat relocation costs except driving them across town. Thanks again to everyone who offered help!
Always good to have some happy news on a politically stormy day… which is just about *every* day, right now…