Yesterday, Ohio Governor John Kasich went on CNN to sell himself as a reasonable Republican on gun issues. In the convo with Dana Bash below, Kasich says he suggested to a "gun collector friend" that a ban on AR-15s wouldn't erode his (the friend's) the 2nd amendment rights, which is straight-up heresy in the Church of the Gun, though Kasich did stop short of endorsing an assault weapons ban. Kasich got plenty of plaudits from non-Republicans for his leadership on the issue!
Gov. John Kasich calls Congress "totally dysfunctional": "Do I think they can do anything on guns? I hope they prove me wrong and they can, because I have no confidence in them" #CNNSOTU https://t.co/CnU1ehOkoy

— CNN (@CNN) February 18, 2018
Mistermix covered it here, noting that Kasich had conveniently transformed himself into a 2nd amendment absolutist when it suited his purposes a few years back.
After the tweet above went viral, I took a look at Kasich's 2nd amendment "issues" page. Here's what it looked like earlier in the day on Sunday, as the CNN tweet was blowing up: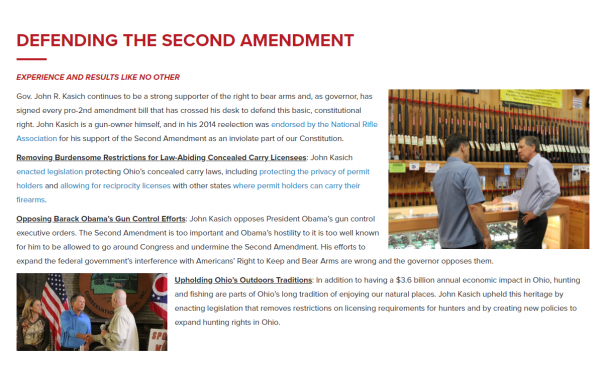 Sounds like a typical NRA shill, right? "[S]igned every pro-2nd amendment bill that crossed his desk," and "endorsed by the National Rifle Association" and "opposing Barack Obama's gun control efforts" blah blah blah.
I took a screen shot of that page to disabuse people on Twitter of the notion that Governor Kasich, who wants to be President Kasich, is in any way a moderate on gun control — at least, he wasn't before the brave kids in Florida started calling out NRA-branded politicians.
But later yesterday afternoon, on another device, I went to take another screen shot of the page above for the same purpose, and poof! It was gone!

Huh. It's almost like the Kasich social media team realized the staunchly pro-NRA page didn't match up with the candidate's governor's new persona. Someone put in weekend overtime to produce today's page: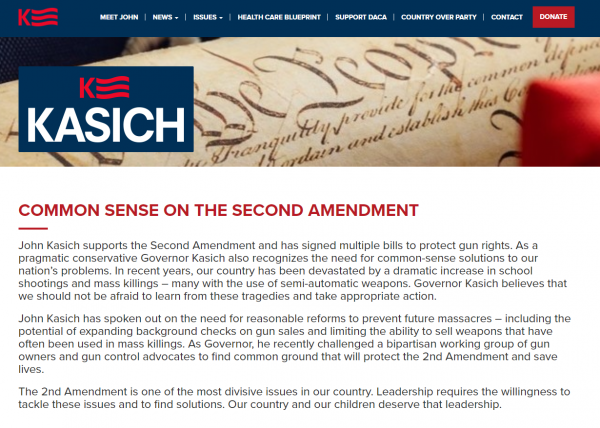 So, in 24 hours, Kasich evolved from "Defending the Second Amendment" to "Common Sense on the Second Amendment." Good for him, I guess.
Was it a sincere conversion, or has he sensed a shift in the political wind? I quit giving Republicans the benefit of the doubt before the turn of the century, kids. But whether Kasich is a cynical bastard is beside the point: Something's happening here.