Here's a red-bellied woodpecker seeking bugs in one of our palm trees: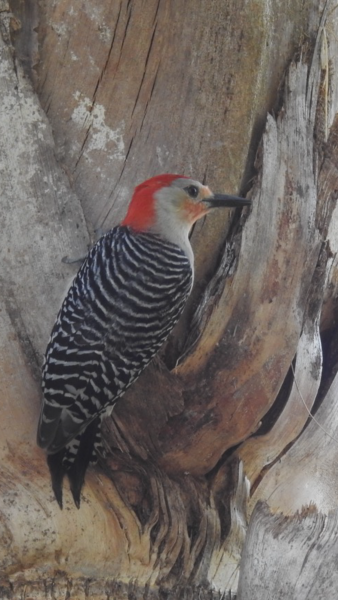 He knows his business; bugs very often hide in the crevices formed where the fronds are attached to the trunk of the tree. I remember attempting a Tarzan swing on a hanging palm frond once as a child, and when it detached, bugs rained down on my head. Never did that again!
Someone else who knows her business: Hillary Clinton is visiting India, and she had some thoughts on our current national situation. Via The Post:
NEW DELHI — Hillary Clinton said over the weekend during a trip to India that the United States did not "deserve" the presidency of Donald Trump…

In her speech, Clinton spoke of the dangers of Russian influence and authoritarianism in regimes worldwide. "These are perilous times," she said.

Later, when asked about the seemingly close relationship between Trump and Russian President Vladimir Putin, now subject of a special counsel's investigation, Clinton replied: "Trump does have quite an affinity for dictators. He really likes their authoritarian posturing and behavior."

"He does have a preexisting attitude of favorability toward these dictators, but I think it's more than that with Putin and Russia," she said.

"Do they have something on him?" asked the event's host, India Today Editor Aroon Purie.

"Well, we'll find out, we'll find out," she answered. "Follow the money."
Good for her. She doesn't owe the vile shit-sack Trump any deference whatsoever, so I'm glad she's not pulling punches for the sake of national unity. There's none to preserve.
When asked about the 2016 campaign, Clinton said:
"If people were looking for a reality TV campaign, maybe I should have given them more entertainment," she said. "I'm the mother who says, 'Eat your spinach, you'll grow up strong.' Someone else is saying, 'Eat all the fast food and the ice cream you can possibly stick in your mouth.' "
Maybe we (the country, I mean) are approaching the purge phase after that noxious binge. I know I'm still feeling queasy all these months later. Anyhoo. Open thread!