This girl from Texas:
Heartbreaking moment as Santa Fe High School student is asked if she thought a shooting 'would not happen' at her school:

"It's been happening everywhere. I've always kind of felt like eventually it was going to happen here too." https://t.co/6fKS4bdvrk pic.twitter.com/ApfEloDyBP

— ABC News Politics (@ABCPolitics) May 18, 2018
America failed her. It's shameful.
Speaking of shameful, the low-life piece of shit president and his vice-toady made the usual blah-blah-blah mouth-noises in response to the shooting. They'll do nothing. It won't change until we vote the NRA shills out. Simple as that. God gets it: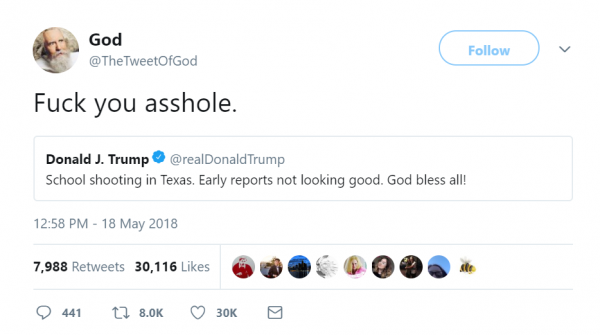 It's too bad Twitter God isn't equipped with smiting powers. If He were, perhaps He could put an end to authoritarian practices such as using Trump using federal power to punish and intimidate critics, as detailed in The Post:
President Trump has personally pushed U.S. Postmaster General Megan Brennan to double the rate the Postal Service charges Amazon.com and other firms to ship packages, according to three people familiar with their conversations, a dramatic move that probably would cost these companies billions of dollars.

Brennan has so far resisted Trump's demand, explaining in multiple conversations occurring this year and last that these arrangements are bound by contracts and must be reviewed by a regulatory commission, the three people said. She has told the president that the Amazon relationship is beneficial for the Postal Service and gave him a set of slides that showed the variety of companies, in addition to Amazon, that also partner for deliveries.

Despite these presentations, Trump has continued to level criticism at Amazon. And last month, his critiques culminated in the signing of an executive order mandating a government review of the financially strapped Postal Service that could lead to major changes in the way it charges Amazon and others for package delivery.
The remedy for this is the same as the cure for the plague of GOP politicians — from the PEEOTUS on down to the lowliest goddamned councilman — who care more about NRA donations than they do about kids: Vote the fuckers out. Nancy Pelosi gets it:
Umm, yeah. Yes we will. https://t.co/S2Ch6bFtG0

— Nancy Pelosi (@TeamPelosi) May 17, 2018
There are 172 days until the midterm elections. Accountability starts then, or it never does. Let's make sure it starts then. Open thread.