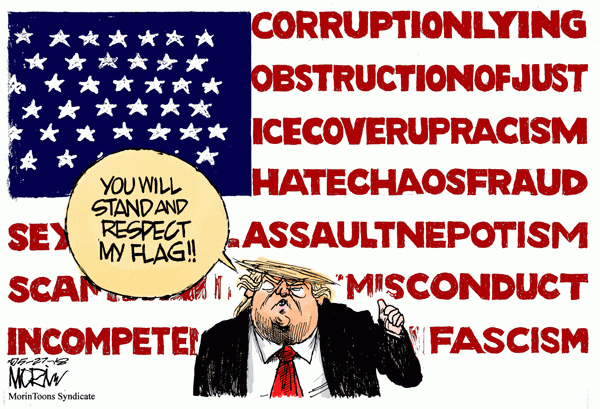 E.J. Dionne, at the Washington Post:
… [P]hony claims and nasty innuendo built around imagined sins against patriotism and our veterans predate President Trump. But Trump's attacks on NFL players who have knelt during the national anthem to protest police brutality and racial injustice represent a particularly vile effort to mobilize political support by implying that the dissenting athletes, most of them black, lack a devotion to country.

The privileged NFL owners chose to capitulate to this divisive propaganda. The anthem at the heart of this discussion celebrates our country as "the land of the free and the home of the brave." Yet the owners' action is the opposite of bravery and a blow to freedom. Many on the right have spoken out forcefully for free speech on college campuses. But do they now propose to turn stadiums into "safe spaces" where conservatives deny others the liberties they claim for themselves?…

Democrats fret that even engaging with Trump on all of this risks placing progressives on the wrong side of patriotism. But the history of Memorial Day should teach us that the meaning of our patriotism has long been a matter of necessary struggle.

We should not let the divider in the Oval Office keep us from joining together in profound appreciation of our fallen. They perished under a flag that represents "liberty and justice for all." The living cannot surrender either of these commitments.
What chaps my ass about this is that once again he co-opts somebody else's sacrifice for his own glory.

This guy has never actually ever done ANYTHING himself. He's the ultimate parasite. The Tapeworm President. https://t.co/2ZwvdSuUZU

— Stonekettle (@Stonekettle) May 28, 2018
Just something to keep in mind next time we have some dumb fight about statues. Our most important monument to those who wage and endure violence in our name was deliberately located in a place where it would forever overshadow the legacy of a treasonous slaver.

— zeddy (@Zeddary) May 28, 2018