Michael Avenatti has released his email correspondence with Mike Davis, who is Senator Grassley's Chief Counsel for Nominations for the Senate Judiciary Committee.
My e-mail of moments ago with Mike Davis, Chief Counsel for Nominations for U.S. Senate Committee on the Judiciary. We demand that this process be thorough, open and fair, which is what the American public deserves. It must not be rushed and evidence/witnesses must not be hidden. pic.twitter.com/11XLZJBTtY

— Michael Avenatti (@MichaelAvenatti) September 24, 2018
So you don't have to squint, here's the email correspondence that Avenatti tweeted: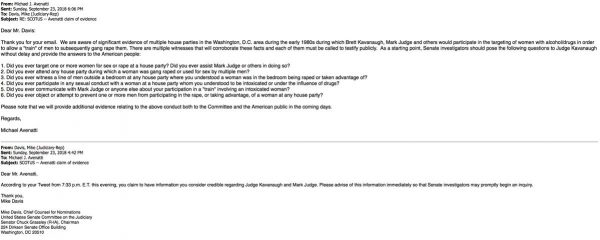 As I've been saying in comments for several days, there is a lot of time between now and when Dr. Blasey testifies on Thursday for more shoes to drop, let alone between now and the following week, which is most likely when Senator McConnell will try to schedule the floor vote on Judge Kavanaugh's nomination. And Avenatti is just beginning his campaign of death by a thousand twitter cuts.
Open thread.