Good Morning. The usual crew is nowhere to be seen.
This is how Ric greets me in the dining room as I make breakfast.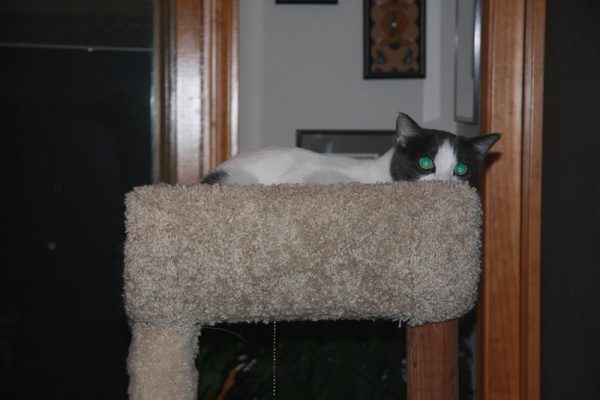 Trump is not yet tweeting.
The rightwing gets some of its jollies from what we might call EMP porn. EMP is electromagnetic pulse, a concomitant of nuclear weapons explosions. Nuclear weapons can be engineered to produce more of it. The rightwing fantasy is that a country like Iran or North Korea, with not many nukes, would magically, maybe by floating it by balloon, sneak such a nuke or nukes over the US, detonate it, and END ELECTRICITY IN THE US FOREVER!!!!! This is nonsense – developing such a bomb would require tests, and it's not like the US wouldn't notice the nuke part and fry the perpetrators. Plus if you have only a few bombs, the smart way to use them is to take out a city. There was another such article in a national publication this week. Here's one reaction.
2/n

To recap, the authors of this…"document"…argue that:

-Iran has nukes

-Iran & DPRK have worked together to develop EMP weapons

-Iran could EMP attack the US from a ship, balloon, or satellite.

"DETERRENCE IS NO DEFENSE AGAINST SUCH THREATS" pic.twitter.com/KiOcwQLyAj

— Martin "Pu & gravy" Pfeiffer (⧖) ?️‍? (@NuclearAnthro) December 6, 2018
4/4

You know what, this isn't even worth my time nor is it worth your's.

You see the authors of this bullshit?

Just ignore them because they're about half a step from screaming about Nazi-Communist-Deep State invasion bases on the dark side of the moon. pic.twitter.com/G8NmlR0B39

— Martin "Pu & gravy" Pfeiffer (⧖) ?️‍? (@NuclearAnthro) December 6, 2018
The EMP (DRINK!) thing is sort of an in-group joke.
How's your day going so far?